The 2020 election is less than one week away! It's more important than ever to make a voting plan: learn about candidates and measures; find polling places and ballot boxes near you; and track your ballot once it's in the mail.
Make your Voting plan:
Voter's Edge, una guía para la elección de 2020, está disponible AQUÍ .
To find in-depth information about what's on your ballot, we have links on our website to candidate forum videos, general election information, and to Voter's Edge. Voter's Edge can be found on the right-hand side bar of our site and looks like this: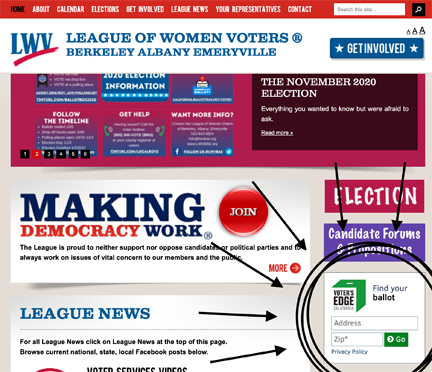 Type in your address and click "Go" to get a personalized list of every candidate, measure and proposition that will appear on your ballot, with non-partisan information on each. It includes candidate statements, and who supports and who funds them. Voter's Edge also allows you to make notes of your voting decision on a page called "My Choices." Reference your notes here when filling out your mail-in-ballot at home or at your polling place.
For more information, reference 'Voting Information' on your Voter's Edge page for questions about the voting process. Voter's Edge will provide you with options on voting methods, important dates and deadlines, your voting rights, and more.
Voter's Edge is also available HERE in Spanish. Please share this link with anyone you know who is Spanish-speaking.
For a brief overview of the US election process, California State Propositions, and voting methods, find PDFs of the 2020 Easy Voter Guide in five different languages here at https://easyvoterguide.org/
Find Voting Locations Near You:

On California Secretary of State Alex Padilla's website, https://caearlyvoting.sos.ca.gov/ , you can find Early Voting and Vote-by-Mail Drop Off locations. Follow the prompts to input your county and city or zip, and a list of nearby voting locations will be available. This list includes all mail-in ballot drop box locations.
You can also visit our website to find the ballot drop boxes in Albany, Berkeley and Emeryville. Ballot drop boxes are open seven days a week, 24 hours a day with daily pickup. There are now six ballot drop boxes in Berkeley, three in Albany, and one in Emeryville.
Ballots returned by mail must be postmarked by November 3, 2020; ballots returned at a secure ballot drop box must be deposited by 8:00 p.m. on November 3, 2020.
Track Your Ballot:
Track when your ballot has been mailed, received and counted by simply visiting california.ballottrax.net. Once on the page, fill out your legal name, date of birth and ZIP code as prompted to find any information on your Vote-by-Mail ballot.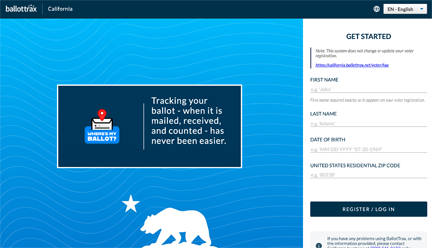 Still have questions about voting in the 2020 election? See THESE Voter Services videos put together by the League of Women Voters, Berkeley, Albany, Emeryville,
–Lucy Montgomery
All League News