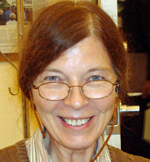 CHRISTINE WENRICH – Team Leader archivist@lwvbae.org
KANDEA MOSELEY – Co-Leader kandea@lwvbae.org
Team Members: Jinky Gardner, Pat Kuhi
What we do:
We are a flexible group who observe and report on meetings held by the cities of Berkeley and Albany on policing and social justice.  Berkeley's new Police Accountability Board is of great interest to our team. 
If you, would like to observe Emeryville City Meetings for LWVBAE, please get in touch with archivist@lwvbae.org.  There is also a Juvenile Justice aspect to our group.  We would like to follow the closing of out-of-state and other incarceration facilities for youth. Please join us in this endeavor –  kandea@lwvbae.org
A little history to the present.
Please see our official political position below as we continue to work and refine it;
Our Position adapted from the State League:
LWVC Position on Criminal Justice: The LWV California supports:
● a criminal justice system that is just, effective, equitable, transparent, and that fosters public trust at all stages, including policing practices, pre-trial procedures, sentencing, incarceration, and re-entry;
● the elimination of systemic bias, including the disproportionate policing and incarceration of marginalized communities;
● policing practices that promote safety for both law enforcement officers and the communities they serve;
● collaboration between government and community throughout every stage of the criminal justice system;
● a focus on humane treatment and rehabilitation with the goal of promoting the successful reentry into communities of those who have been incarcerated; and
● reliance on evidence-based research in decision-making about law-enforcement programs and policies (including scheduled, periodic audits of program and policy effectiveness)
For further the details go to: LWVC's Criminal Justice Position
–Christine Wenrich