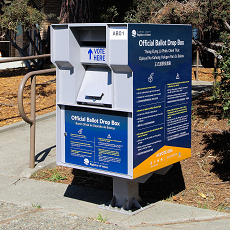 EIGHT Mail-in Ballot Boxes in Berkeley, Albany, and Emeryville are now open, with days left before election day November 3rd. Ballot boxes are designated drop-off points for your mail-in ballots. Find addresses of Ballot Boxes near you below. If  you live in Alameda County, you may use any box in Alameda County.
Mail-in ballot boxes will be open until 8:00 PM on Election Day, November 3rd.
Voting locations are open Saturday October 31st Through Monday November 2nd  9:00 AM to 5PM.
On Election Day, Tuesday November 3rd, Voting locations are open 7:00AM to 8:00 PM.

There will be same day voter registration.
Alameda County Interactive Drop-Box Map with directions HERE.
Accessible Voting Locations with Map and directIons HERE.
ALBANY
Box: Albany City Hall,  At the Parking Lot entrance, 1000 San Pablo Ave. Albany
Voting Locations:
Albany Veterans Memorial Building, 1325 Portland Ave. Albany
University Village Apparatus Bay, 1053 Monroe St. Albany
NORTH BERKELEY
Box: North Branch Library, 1170 The Alameda, Berkeley
Voting Locations:
Northbrae Community Church, 941 The Alameda, Berkeley
Epworth United Methodist Church, 1953 Hopkins St. Berkeley
WEST BERKELEY
Box: West Branch Library, 1125 University Ave, Berkeley
Voting Location: City of Berkeley Private Building, 1011 University Ave. Berkeley
DOWN TOWN BERKELEY
Box: Berkeley Civic Center Bldg. 2180 Milvia St. Berkeley
Voting Location: Berkeley High School Gym, 1980 Allston Way, Berkeley
UNIVERSITY OF CALIFORNIA BERKELEY
Box: Between Sather Gate and Architects & Engineers Building, The UC Campus, Berkeley
Voting Location: MLK Student Union 3rd Floor Ballroom. 2455 Bancroft Way, Berkeley
SOUTH BERKELEY
Box: San Pablo Park, Frances A. Rec. Center, 2800 Park St Berkeley
Voting Locations:
Longfellow School Gym, 1500 Derby St. Berkeley
Ed Robert's Campus, 3075 Adeline St. Berkeley
EAST BERKELEY
Box: Claremont Branch Library, 2940 Benvenue Ave Berkeley
Voting Locations:
Lawrence Hall of Science, 1 Centennial Drive, Berkeley
Willard Middle School, 2425 Stuart St. Berkeley

EMERYVILLE
Box: Emeryville City Hall. In front of the new building, 1333 Park Ave. Emeryville
Voting Location: Youth and Adult Service Gym, 1170 47th St. Emeryville
–Lucy Montgomery
All League News