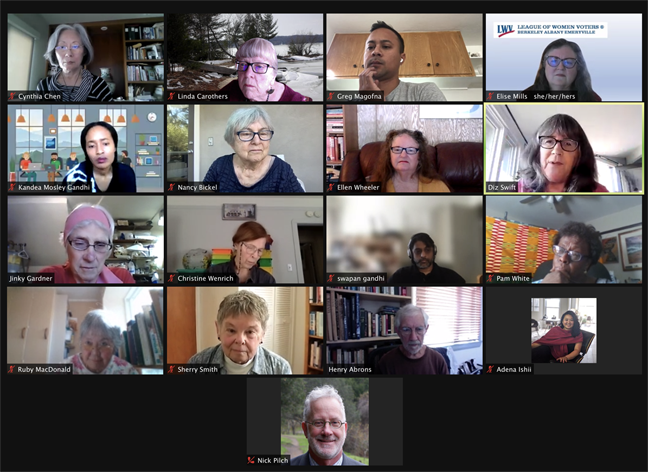 Despite Super Bowl Sunday festivities, about 17 League members turned up on February 13th to participate in Program Planning where political issues for emphasis locally and nationally were voted upon by members.
National Emphasis
For the League of Women Voters of the United States (LWVUS), after some discussion about how we demonstrate our commitment to mitigating climate change and support for updating the LWVUS's healthcare position, the following issues for emphasis for 2022-2024 were approved for submission to the national League office:
Using a Diversity, Equity, and Inclusion (DEI) lens, and under the "Campaign for Making Democracy Work" framework the following issues were successfully voted upon:
Campaign for Making Democracy Work
Voting Rights
Improving Elections
Money in Politics
Redistricting
Climate Change
These national issues for emphasis, aside from climate change, were recommended by the LWVUS Board for 2022-2024 as well. That vote, along with LWVBAE's, indicated a shared desire to continue to focus on the important political issues approved two years ago.
To assure members concerned that the national healthcare position wouldn't be considered at the LWVUS convention in June, President Kandea Mosley Gandhi and Healthcare Team Co-Chair Hank Abrons added that the Board already voted to support adding the LWV-NYS proposal to update LWVUS's healthcare position to the agenda of the 2022 LWVUS convention. See here.
As a result, Gandhi said the group didn't have to vote on the proposal to update the national healthcare position at the afternoon Program Planning meeting. LWVBAE Coach Ellen Wheeler said the Board's procedure in this instance was sound.
Local Emphasis
After national issues were approved, members reviewed the local priorities agreed upon at the Annual Meeting on June 17, 2021. Several people suggested we continue the work voted on at last year's Annual Meeting after Secretary Elise Mills first opened things up to any new recommendations from the floor.
Housing Team Chair and DEI Team member Greg Magofña suggested LWVBAE introduce language to reinforce the importance of using a DEI lens in all of our work.
"I don't know that all of our teams are really using the lens," he said.
As a result, Gandhi suggested we insert DEI language in each of our proposed issues for emphasis for the July 1, 2022- June 30, 2023 League year. Following some continued conversation, the priorities below were approved for submission to the LWVBAE membership for a vote by the entire body this June:
issues for emphasis
Criminal Justice, using a DEI lens
Climate Change, using a DEI lens
Healthcare, using a DEI lens
Stay tuned for the announcement of the June Annual Meeting in the coming months!
–Kandea Mosley Gandhi
All League News