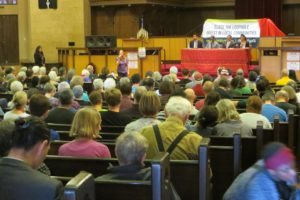 An audience of  about two hundred and fifty responded enthusiastically to the campaign leaders speaking at the September 9 Make It Fair Town Hall in Oakland.  Members of LWVBAE's Prop. 13 Reform/Civics Ed Team,  one of the event organizers, collected questions for the panels and handed out flyers.
The Oakland Town Hall was the first of several planned as part of  a new, "action" phase in the campaign to Reform Prop. 13. The proposed Make It Fair campaign reforms would  make sure that commercial properties pay their fair share of property taxes.  The main proposal is to reassess commercial properties at current value every year. This change is expected to raise about $9 billion more in property taxes to support schools and local services.  No changes in property taxes on homes or apartments are proposed.
This initial stage of the campaign is directed to signing up more supporters and training more speakers. LWVBAE's Prop 13 Reform/Civics Ed Team is actively engaged in this work. Come to the Team's meetings on the third Saturday of every month from 10 am to noon to learn more.
The League of Women Voters of California is part of a large coalition led by California Calls, Make It Fair and Evolve-CA. LWVBAE's Team, LWV California and the Oakland nonprofit Policy Link joined in organizing the Sept. 9 event at First Congregational Church of Oakland.

Elected Officials and Community Organization Support: Opening the event, SF Community College Trustee, Shanelle Williams, introduced State Senator Nancy Skinner, State Senator Scott Wiener and Assembly Member Rob Bonta who spoke briefly but forcefully in favor of the reform.
Panelists responding to the many audience questions were: Evolve-Ca Campaign Director Ben Grieff, Alameda County Supervisor Keith Carson, Richmond City Council Member Melvin Willis and Alliance of Californians for Community Empowerment Executive Director Christina Livingston.
Small Business and Housing Support: Small businessman Paul Ulrich explained that the proposed reforms would level the playing field for small business, since they do not benefit from the many ways large commercial properties avoid having their property taxes rise.   Amy Fishman of the nonprofit Housing for California pointed out that the current tax structure encourages communities to welcome big businesses but discourages development of housing.
To watch the video of the Oakland Town Hall, click here.
All League News