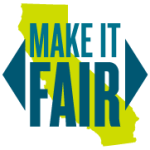 Learn why the state League is an active partner in the coalition  to reform Prop 13 and how you can help make taxes more fair and raise more money for schools and local government. Watch the video of the Make It Fair Community Town Hall, held September 9. Senator Nancy Skinner, Senator Scott Wiener, Assembly member Rob Bonta and other community leaders talked about the urgency of Prop. 13 Reform and the facts and arguments that support it.

"I thought [the video] was great and inspiring and want to encourage everyone to take the time to enjoy it," said Gail Wallace, a member of our Prop. 13 Reform Team.
The proposed change to Prop. 13 would require commercial – but not residential or rental — property taxes to be assessed regularly at market value. Research has shown that this Prop. 13 reform could add $9 billion to state and local budgets in great need of this revenue for K-12 education and other essential government services. LWVBAE Board Member Ken Bukowski recorded the event, as he does many regional and other public meetings. Watch them for free at The videos are available free on line at http://Regional-Video.com.

In the following video, you will hear the following speakers:
Elected Officials and Community Organization Support: State Senator Nancy Skinner, State Senator Scott Wiener and Assembly Member Rob Bonta spoke forcefully at the Oakland Town Hall on Sept 9.
The hundreds of citizens in the audience were enthusiastic and broke into applause often. They submitted many questions to the panelists: Evolve-Ca Campaign Director Ben Grieff, Alameda County Supervisor Keith Carson, Richmond City Council Member Melvin Willis and Alliance of Californians for Community Empowerment Executive Director Christina Livingston.
Small Business and Housing Support: Small businessman Paul Ulrich explained that the proposed reforms would level the playing field for small business, since they do not benefit from the many ways large commercial properties avoid having their property taxes rise.   Amy Fishman of the nonprofit Housing for California pointed out that the current tax structure encourages communities to welcome big businesses but discourages development of housing.
To learn more about the coalition and campaign, click here.
All League News