The Albany Climate Action Committee (CAC) discussed Albany's Carbon Neutrality Goal, the progress of the Solar Panel Upgrade Quiz soon to be available on the city website, and electric construction ordinances when the committee met on Wednesday, December 16.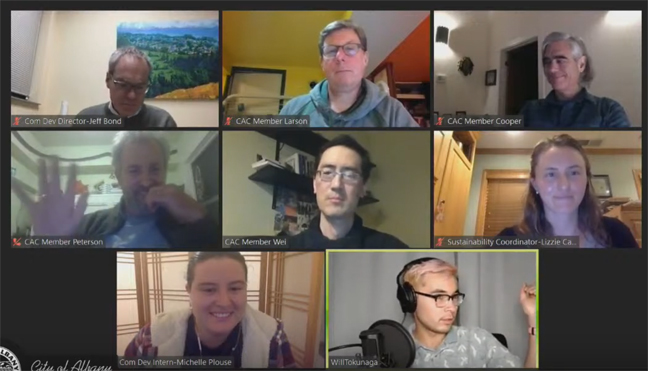 The bulk of Wednesday's meeting covered an analysis of the potential cost for Albany households to reach carbon neutrality. Using data from the city of Albany, energy surveys, Alameda County, the census, and Lawrence Berkeley Labs, the presentation reviewed the costs and carbon savings to shifting single-family houses and transportation to electric. The costs of using electric vehicles, and heat pumps for water and space heating were compared with a carbon-burning baseline of what families are assumed to be using now. Currently 56% of Albany carbon emissions are from transportation, so switching to electric would have a massive impact. By analysing the total miles driven and car size per household, the presentation concluded that the total cost of ownership (TCO) of Electric Vehicles (EV) is more for smaller cars, however as the miles and size increase, the TCO goes way down.
"The easiest step for households to shift to electric energy, in terms of cost and effect, is to buy an electric car," said LWVBAE Climate Team Leader Eric Arens, who drives electric and uses multiple electric appliances. "Not burning gasoline [with an ICE vehicle] is a big deal. The next electric appliance to use with the highest impact would be the heat pump."
Heat pump analysis looked at water heating and space heating based on home size. In both cases, the electric option was more expensive, yet was projected to save thousands of kilograms of CO2 emissions per year. The TCO for water and space heaters decreased with increased use. Interestingly, heat pumps connected to a heating and cooling system were projected to be more cost efficient than those using only heating.
The full presentation concluded that switching to all electric could cost homeowners up to $18,908 per year. This is where government support could incentivize homeowners and apartment owners to convert to electric energy.
"There are some people who can pay for [electric appliance] changes themselves, but for the people who can't, the government should help," said Arens. "For example, in Sonoma County they'll pay you around $15,000 to convert to electric."
This monetary support would push people to convert to electric energy in a time of great need.
"[Homeowners and apartment owners] need to act now," says Arens. "Global warming is happening, and it's not going to wait for anyone. The government should subsidize electric appliances and do anything to make it easier for people to convert to electric."
The presentation also estimated that Albany carbon emissions would decrease by 40% with all households on electric energy.
Next, the Committee reviewed a prototype for the Solar Panel Upgrade Quiz, soon to be available. The quiz gives solar panel users the correct solar system size for the amount of energy in Volt Amps that their appliances collectively use. The quiz is still in the editing stages, but should advise Albany residents on more effective solar energy usage.
Earlier in the meeting, there were various community announcements. On December 9, 139 people tuned in for the Electric Vehicle 101 info session run with Berkeley, San Francisco and 350 Bay Area. Stop Waste, an online resource guide on recycling in Alameda County, updated their page so all residents can find the next best use for any product they are cleaning out. The Green Building Update, discussed on the LWVBAE website back in July, was presented before the Albany Planning and Zoning Commission, who chose to present the plan to city council at the nearest possible date. The East Bay Community Energy (EBCE) Board voted to extend Brilliant 100 service through Dec 31, 2021. This service will continue providing 100% carbon-free energy to residential, commercial and industrial users.
See the full meeting, including other updates and subcommittee announcements, here.
All League News