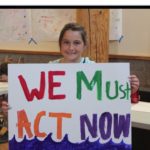 After more than a year of challenges, a constitutional climate change lawsuit brought by a group of 21 youths vs the federal government is going to trial. The LWV of Oregon and the LWVUS have filed an amicus brief in support of the Plaintiffs. On November 10, 2016 the ruling by U.S. District Court Judge Ann Aiken determined that the case can go to trial, and also grants the motion of the LWVUS and LWVOR to intervene as amici curiae in the case going forward.
The lawsuit is initiated by Our Children's Trust and based on the Public Trust Doctrine. The complaint asserts that, in causing climate change, the federal government has violated the youngest generation's constitutional rights to life, liberty, and property, as well as failed to protect essential public trust resources. On April 8, 2016, U.S. Magistrate Judge Thomas Coffin ruled in favor of the young Plaintiffs by denying the government and fossil fuel industry's motions to dismiss.
You can read more about the case and Our Children's Trust in the Toolkit for Climate Action.
All League News