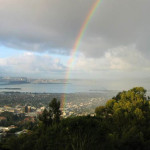 Heather Buckley, Associate Director, International Partnerships, UCB Center for Green Chemistry will speak about: From Asbestos in Ahmedabad to Parabens in Palmolive: Green Chemistry as a Path to Safer, Healthier Communities.
Dr. Heather Buckley. Born and raised in Canada, she holds degrees from the University of British Columbia and a PhD in Green and Inorganic Chemistry from the University of California Berkeley. Heather has worked in fuel cell catalyst development and drinking water remediation, as well as in the development of safer building materials for low income communities and alternative preservatives for home and personal care products. She is active in the Berkeley community as a coach of Berkeley High Coup (mixed) and California Roll (girls) Ultimate teams.
Heather will talk about green chemistry as a design and policy approach to safer products and communities, focusing on case studies from her work on roofing in India and antimicrobials in personal care.
7:30-9:00 p.m. Parlor RommNorthbrae Community Church, 941 The Alameda, Berkeley
Contacts: Carol Stone 510-549-0959 or seastone11@hotmail.com
Gail Schickele 415-922-5826 or gails@bayarea.net
SAVE THE SECOND MONDAY OF EACH MONTH, SEPTEMBER-MAY
Wheelchair access from parking lot behind building through larger meeting room.
THIS IS AN OPEN MEETING AND VISITORS ARE WELCOME
All League News