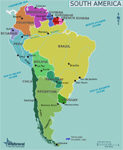 The Environmental Concerns' Annual Holiday Potluck with finger food starts at 7 pm. Dr. Anna Cederstav, Staff Scientist for Earthjustice's International program will speak on Earth Justice in Latin America at about 7:30 pm. The meeting will be in its new location at Northbrae Community Church, 941 The Alameda in Berkeley.
Dr. Anna Cederstav was born and raised in Sweden. In 1980, her family moved to Connecticut where she attended Greenwich High School and Yale University. She holds a Ph.D. in chemistry from the University of California at Berkeley. Anna has a broad background in organic and environmental chemistry, environmental engineering, and environmental policy. Anna joined Earthjustice's International program as Staff Scientist in 1998. She is also Co-Executive Director of the Interamerican Association for Environmental Defense (AIDA), a hemispheric environmental law group of which Earthjustice is a founding participating organization. In 2001, Anna served on the global assurance committee for the Mining, Minerals, and Sustainable Development project, and she is currently on the Board of the Center for Science in Public Participation. She will talk of her work with AIDA. Founded in 1998, the Interamerican Association for Environmental Defense (AIDA) uses the law to protect the environment and communities suffering from environmental harm throughout Latin America. The 35 countries of our hemisphere are united under a common environmental flag.
Location: Northbrae Community Church, The Alameda, Berkeley, Parlor Room The Parlor Room is wheelchair accessible from the parking lot behind the community building–through the south door.
Contacts:
Carol Stone 510-549-0959, seastone11@hotmail.com
Gail Schickele 415-922-6627 gail.schickele@gmail.com
All League News