The crowds were big and mellow. People of all ages and sorts. Great homemade signs. Even babies wore pink pussy hats. We'll post photos by local Leagues soon.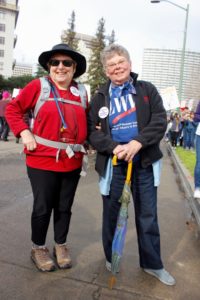 Leaguer Jill Martinucci was taking photos at the Womens March in Oakland from 7:30 in the morning. She caught Nancy Bickel and Sherry Smith, two of the many LWVBAE members marching that day, as they passed her near Lake Merritt.
The Women's March website described it as follows:
The Women's March is a national movement to unify and empower everyone who stands for human rights, civil liberties, and social justice for all. We gather in community to find healing and strength through tolerance, civility, and compassion. We welcome all people to join us as we unite locally and nationally. Join us on January 21, 2017.
Getting there:  The march officially starts at 11 am and goes to Frank Ogawa Plaza.  Take BART from El Cerrito, Berkeley or N Oakland BART station to Lake Merritt BART station (Fremont train).  At the conclusion, return from the 12th St Oakland Civic Center BART station. Bring your own signs, if you wish. [And perhaps water and a sandwich!]
Event Details from the Organizers:

We will meet at Madison Park in Oakland at 10AM.  At 11AM we will begin our march up Oak Street to Grand Street along Lake Merritt.  We will then march down Broadway to end at Frank Ogawa Plaza.  At 12:30 PM we will begin our rally with speakers, art and music concluding at 3 PM.
Time of March: 10AM – 3PM
Starting Location: Madison Park
Ending Location: Frank Ogawa Plaza
No tickets required. Please register on our Eventbrite page.
More information at https://www.eventbrite.com/e/womens-march-oakland-tickets-30314688048#tickets  and https://womensmarchbayarea.org/#join-a-march
All League News