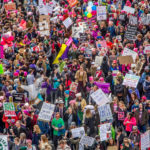 Tomorrow, Saturday, January 20th is the second Women's March in Oakland. We have been invited to join Oakland and the other Bay Area Leagues, so that we can march as a contingent.
See link below for rules and advice–eg no sticks or backpacks, bring water; allow an hour or more to travel by BART and reach the meeting point. Take your own supplies of sweater, hat, poncho if rain seems likely.
Leagues will be urging folks to register and vote–and promoting our goals–on DACA, on women's right to choose–and more. You can make your own signs–to hold or wear.
LWVOakland  members will be meeting at 9 am (and departing at 9:30 for the parade line-up) at the stairs of the Oakland Museum on 10th street, between Oak and Fallon.
The event will begin at 10 a.m. on Saturday, January 20, 2018. Here is the schedule for the day:
10:00 a.m. – Rally at Lake Merritt Amphitheater
We'll get fired up with amazing speakers and performers.
11:30 a.m. – March to Frank Ogawa Plaza
We'll sing, chant and join women and their allies from across the East Bay and beyond.
12:00 p.m. – Take action at our Call to Action Alley
We'll learn about organizations doing mighty work a
Accessibility information for the route: The route is 0.9 miles. It is uphill for the first couple of blocks to Oak Street. There is a slight uphill slope from Oak to Madison. There is a bad curb cut at 14th and Alice on the right, and another one at 14th and Franklin on the right.
To read more about the march go to https://womensmarchoakland.org/about-the-march/.
To register for the march go to https://www.eventbrite.com/e/womens-march-oakland-2018-tickets-39573397096.
The national and state Leagues are supporting the march, so League members may march as a group, wearing League pins or carrying League signs.  Feel free to organize informally with friends.
Women's March Oakland 2018 is a rally and march in partnership with the Bay Area chapter of youth organization March for Our Future. We are joining 19 other California chapters in hosting rallies on the anniversary of the historic Women's March. Our anniversary event will focus on voter education and participation as well as uplifting tomorrow's leaders, with the theme, "Hear Our Vote: March for Our Future."
Women's March Oakland 2018 is a nonpartisan, peaceful event that will give people from across the East Bay and beyond the opportunity to activate their communities, engage and support youth, and publicly proclaim that women's rights are human rights and human rights are women's rights in line with the Unity Principles.
Making Women's Marches safe spaces for all kinds of people is critical to their success. and the country, rather than to criticize politicians or political parties.
There will also be a Women's March in San Francisco.
Nancy Bickel
Communications Coordinator
All League News