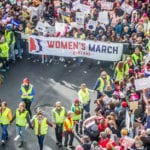 The March is a nonpartisan, peaceful event, Saturday January 18, starting at 10am at Frank Ogawa Plaza, Oakland. The effort will be to raise awareness, recruit volunteers, and encourage funding to get a complete Census count in Alameda County and make voices heard at the polls.
The Prop 13 Reform Team will meet 9am Saturday January 18 at the El Cerrito del Norte Bart. Bring clipboards please. You will be going to the March, telling everyone what Prop 13 Reform is about, and gathering signatures.
In addition to a march through the streets of downtown Oakland, this year's event will feature the biggest Community Action Fair ever, with entertainment, food, art and a wide range of organizations offering opportunities to make a difference in Alameda County. Our League will have a presence. The Prop 13 Team is planning to attend to gather signatures for the Refile petition.
The march will start at the intersection of 14th and Broadway, and proceed up Broadway to Grand Ave. At Grand, the route will turn left and proceed to Telegraph. At Telegraph, the route will turn left, ending at Frank Ogawa Plaza.

2020 Schedule: 

10:00 a.m. – Coffee, poster-making and music at Frank Ogawa Plaza
11:00 a.m. – March beginning and ending at Frank Ogawa Plaza
12:00 p.m. – Rally and Community Action Fair at Frank Ogawa Plaza
4:00 p.m. – Event end
More information https://womensmarchoakland.org/about-the-march. And Eventbrite.
All League News