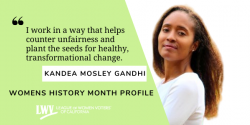 "The League of Women Voters is an important part of Women's History Month because it centers and elevates women's voices as we study and arrive at political positions that are grounded in what's needed to create a democratic society that serves us all," said Kandea.
Kandea was born in Detroit, Michigan and raised in New York City, a childhood she recalls with joy. Kandea came to California to attend UC Los Angeles where she was awarded by the League of Women Voters for her efforts fighting for affirmative action, immigrants rights, and a more humane criminal legal system. She received her BA in African American Studies and later received her MBA from the Johnson Graduate School of Management at Cornell University. Currently Kandea is the co-founder of StrideLabs, which focuses on nonprofit consulting, closing the digital divide, and workforce development.
In 2016, Kandea was searching for ways to combat the racism and misogyny she saw during the presidential election season and remembered the League. She was impressed by the League's new efforts to promote diversity and inclusion and joined the League of Women Voters of Berkeley, Albany, Emeryville. She is now serving as the League's first African American President and as a member of the LWVC Nominating Committee.
Why is Women's History Month important to you?

"The lives and histories of marginalized people have been distorted and misrepresented in the public sphere in a way that negatively impacts us in our daily lives. We often aren't taught about the ways we have achieved and displayed courage in the face of oppression that's excluded us from the right to equitable opportunity. And to repair this harm, to begin to repair this harm, we have to see and learn our value, as women, and take pride in who we often are—the backbone and humanizing force of our society," emphasized Kandea.

What women do you most admire in history?
Ida B. Wells, a journalist and leader in suffrage movement, she told the stories of the racist lynchings in the South in her own newspaper and worked to elevate the voices of women and African American people.
Anna Pauline "Pauli" Murray, a civil rights activist, lawyer, gender equality advocate, first black woman Episcopal priest, and author.
What do you want to be remembered for?
"I want to be remembered as someone who contributed to her community and worked in a way that helped counter unfairness and plant the seeds for healthy, transformational change," said Kandea.
In her free time, Kandea is still working on issues she is passionate about, specifically her work as a member of the board of AbilityHacks, a community of folks like her with disabilities, mobilizing volunteers that research and build solutions to disability-related challenges.

You can find out more about Kandea's work with the League of Women Voters of Berkeley, Albany, Emeryville.
All League News