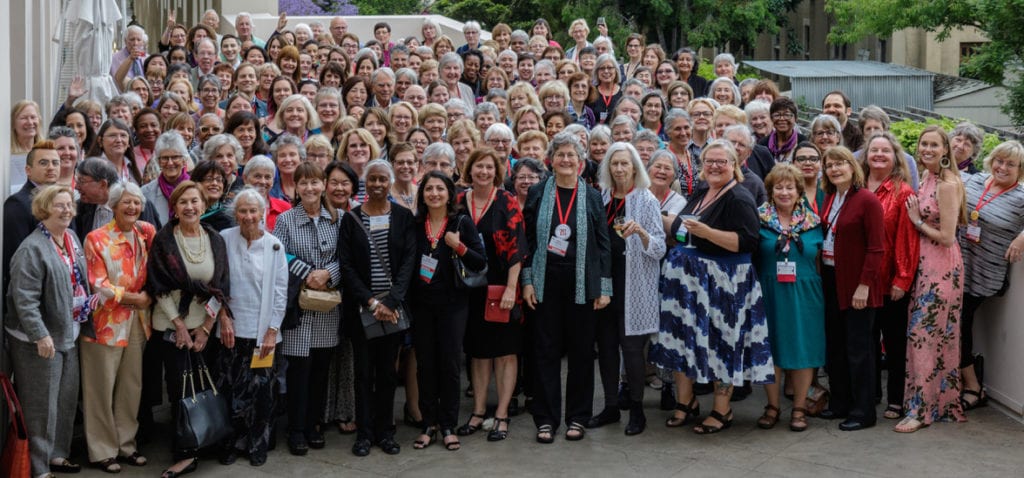 Powered by a tidal wave of 21 caucuses, 15 workshops and 5 plenary sessions, advancing 5 LWVC Issues for Emphasis for 2019-2021 [Making Democracy Work, Schools and Communities First! (Prop.13 Reform) campaign, Climate Change, Criminal Justice Reform and Housing and Homelessness] at last month's 2019 LWVC Convention in Pasadena. Three relatively new Issues for Emphasis stood out: "Diversity, Equity & Inclusion", "Criminal Justice Reform" and "Schools & Communities First!". In 3.5 energy demanding days, the over 200 delegates from almost 60 statewide local Leagues presented, scrutinized, contested and came together to meet challenges ahead in comradeship with new and re-acquainted colleagues. All seemed to feel that the Convention experience is not to be missed. And in 2021, thanks to the superb stewardship of departing LWVC Executive Director Melissa Breach, Bay Area Leaguers will have the Convention at their doorstep in San Francisco!
A special tribute at the Convention by LWVBAE delegates to our outgoing President, Adena Ishii, was the delegates' donation to the Convention fund raising "Garden of Democracy" in recognition and appreciation of her enthusiastic and energetic leadership in growing LWVBAE membership, directing the 2018 Election Voter Services and helping to guide "Diversity, Equity & Inclusion" through its auspicious start.
LWVBAE Delegates Notes on the LWVC 2019 Convention
Christine Wenrich, LWVBAE Archivist
The Criminal Justice Position team, led by the Los Angeles and San Francisco local leagues, held a caucus on Saturday morning at 7:30 AM.  The Powerpoint illustrated some of the problems along with some of the many possible alternatives. People were supportive, speaking agreeably about the timeliness of adopting the new position by concurrence now.  I was pleased and impressed that one slide held BAE's informal statement:
The LWVBAE supports adopting the LWVC Position on Criminal Justice.  At this time, there is a need to empower interested local leagues to research, educate, and act on these issues.  LWVBAE will work toward the goal of realizing a safe and just community."
At the vote on Sunday, 100% of those voting shouted "Aye" making criminal justice part of the league's program for action and advocacy.
Candace Hyde-Wang, LWVBAE Climate Team
I think the most worthwhile ones were our climate workshops. They gave specific information about actions members can take in their own league. The housing and homelessness workshop was full of feeling but short on good analysis and the Wildfire workshop was similarly weak. Both needed to connect with local government entities to get important information. But they did raise the issues. So I guess I will pass on the archivist.
Sherry Smith, LWVBAE Observer & Delegate representing LWVMerced
The convention featured a fund-raising event called the "Garden of 
Democracy".  It featured a large mural-like "garden" on one end of the 
convention hall, on which could be "planted" various items found in a 
garden.  Each of these items represented various levels of giving.
Those of us representing LWVBAE decided to make a group donation on 
behalf of our League to honor Adena Ishii as she leaves the Presidency 
of our League.
 As our "garden item" to add to the mural, we chose a butterfly to be our 
symbol for Adena. 

Adena was surprised and very happy to have us honor her in this public 
fashion, and the State League was pleased to add our contribution to the 
State's Education Fund—so pleased that each of us was given a packet 
of wildflower seeds to acknowledge our gift.
From plenary session speaker PaKou Her: Equality is not equity. If
 we have unaddressed historical or social deficits, this is not
 equitable. She recommended a book, "Borderlands/La Frontera" by Gloria Anzaldua, saying our task is to take the center into the borderlands….First you organize, then you mobilize.
From workshops on "Crafting a Presentation that Inspires" and
 "Framing Your Message to Advocate and Educate", I took away the
    following:
• You change people's minds by figuring out what's important to
 them.  Know to whom you're speaking, and what they care about.
 Present your case on their terms. Message must be matched to
 your audience's values and morals.
• Give your audience an idea of what the structure of your
  presentation will be.
• Know what are the top 3 to 4 things you want them to remember.
 Limit your presentation to these. Don't overwhelm.
• Don't assume your message is already understood.
• If you have visuals, let them tell your story.
• Frame the problem. Frame the solution. Suggest the action. Leave your audience in a good space.
From caucus on the "Schools and Communities First!" (reform of Prop. 13) campaign:
  
• The campaign has 40 organizations on its Executive Committee and over 400 endorsers, including AARP.
•  58% of voters know little or nothing about Prop. 13.
• We need to strengthen support through large-scale public
 education, and to expand the electorate by at least one million
 voters.
• The first step is getting the campaign information out to our
 own League members.
• The increased taxes will go 40% to schools support, and 60% to
  local communities (cities and counties). There have been over
 40 years of disinvestment in our social services.
• The prime message is "If you live in a place, it's protected
 from tax increases, just as it's always been under Prop. 13".
• When presenting, don't bring up that the League was opposed to
 Prop. 13—could be seen as insulting people in audiences who
 had supported the initiative.
From caucus on "Criminal Justice:  Balancing Safety and Equity for
 All" 
• We need to investigate, locally, the "school-to-prison" pipeline.
• 60% of all prison inmates are functionally illiterate. 65% of
 individuals return to prison within 3 years after release.
• 80% of incarcerated women are mothers.
• There are 5 private prisons in California, holding some 4,000
 inmates.
• If a person is sentenced to life without parole (LWOP), no
 rehabilitation or education efforts are allowed.
• 90% of women on LWOP were aiders/abettors of the crime to which
 they were convicted, not the main perpetrators.
• There are 79,431 police officers serving 39 million California
 residents.
Later in the Convention, the complete proposed Criminal Justice
Position was adopted.
Eric Ahrens, LWVBAE Climate Team
I went to caucuses and workshops on topics that I have been interested in.  They were:
• Unlocking League Secrets
• Consensus on Charter School Position
• Water, water, water.  Tell your concerns
• The idea of America: Our Values, our Legacy, and Our Future
• The session that Diz ran on global warming.  This is the session that got me to go to the convention. The room was packed with people. I was able to answer a question, which made the trip to Pasadena worthwhile to me.
Ruby MacDonald, LWVBAE Prop. 13 Team
Wildfire Caucus, Susan Requa (LWVDiablo Valley)
LWVDV raising awareness of measures needed to prevent or mitigate "super" fires spread at previously unimaginable speeds. Measures suggested include prepositioning of fire engines prescribed by law [Linda Phillips, LWVSB], prohibition of building in dangerous areas [Dr. Grace Peng at Fire Tracking Centers], League lobbying for policy and outreach to increase funding of emergency planning [Laura Hernandez, retired Chief of Office of Emergency Services in Ventura County], improved ways to alert and evacuate residents in fire zones. Many agreed with Candace Hyde-Wang (LWVBAE) that resident awareness of fire dangers and compliance with safety measures are seriously deficient.
Criminal Justice Reform, Balancing Safety and Equity for all: Maxine Anderson (LWVSF), Ashley Raveche (LWVM), Carolina Goodman (LWVLA)
About 40 attended caucus of CJR, a rules-changing advocacy for LWVC because 13 leagues began study independently and under leadership of Jenny Waggoner in 2015 to move LWVC to recognize CJR Taskforce without prior LWVC authorization. Christine Wenrich (LWVBAE) read LWVBAE position pro-CJR. Suggested reforms are based on the idea that incarceration should not be punitive but rehabilitative and include "Ban the Box" to fight discrimination, bail reforms, restoring voting rights of formerly incarcerated, protections against police brutality, etc. Sherry Smith (LWVBAE/LWVMerced) urged delegates to volunteer for Grand Jury Service as a year-long, fascinating civic contribution. Legislators behind CJR include Shirley Weber, Bob Hertzberg, Nancy Skinner, Holly Mitchell, Kevin McCartey.
Growing the League of the Future workshop panel: Patti Cherry (LWVMotherLode), Leah Edwards(LWVSF), Natalya Zernitskaya (LWVSM), Aisha Piracha Lakariya (LWVPaloAlto), moderated by Amanda Berg (LWVC)
Besides stating backgrounds, activities that attracted them and motivation for joining the League, panel members shared strategies they used to attract and keep new members. Among the standout ideas were mentor assignment for new members (Jackie Jackaberger), scholarships/dues assistance funds for those who can't pay, 30 Mother Lode members asked to write down their other organizations which totaled 168!, "road map" by LWVSF to easily identify organizations League could partner with by showing which are partisan, which have similar interests, which are politically connected, etc. new member orientation called the "Road Show", newsletter for new members in Santa Monica, new members join an Observer Corps who experience presenting, speaking & reporting on government proceedings as a privilege.
How to Ask for What You Want, fundraising training: Amy Hjerstadt (LWVUS)
Very experienced fundraiser Amy urged signing up for League Update at bottom of webpage (LWVUS) and advice videos from LWVUS. 1) LWV strength is its uniqueness: largest volunteer registrant of voters; strongest grassroots record on voting rights; experience, longevity & "standing" w/ litigation track record on good governance; confidence to discuss issues. 2) Bold projects like Alameda Campaign Transparency, TV program Civic Challenge, social media for voter registration, radio ads for voter registration, applying for $ requires data to demonstrate impact. 3) Fundraising process for individual, as well as agency, donations: identify capacity of donor(s) to give & interest in us, know them; cultivate by talking up League & inviting for lunch, coffee; solicit or ask by engaging w/ problem (talk 20-30% of the time), get them to talk, present vision and ask them their vision, the ask, pause (don't talk), confirm & close. 4) Stewardship: follow up, keep informed w/ updates and acknowledge w/ events.
How to be Beneficiaries, Not Victims, of Social Media in a Democracy caucus: Ruby MacDonald (LWVBAE)
Attempting to help deal with concerns about possible social media (SM) abuses in the coming 2020 election, presenter led an audience interactive caucus offering tips on public's constructive use of social media against a backdrop of SM history, need for but difficulties with government regulation and references with more information: Powerpoint available.
All League News