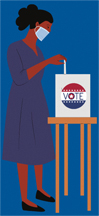 On Tuesday, November 10th, the 10 members of the LWVBAE Voter Services Team met to review their performance during the 2020 election season. Over one hour, Voter Services Intern Rohini Chokkalingam led the team through an evaluation of the various Voter Services responsibilities during the election.
The 2020 Voter Services informational videos — including Candidate Forums, Pro/Con Forums and video projects on Prop 15 and Voter's Edge — were a highlight. The 15 Candidate Forums this year covered district races in Berkeley and Albany, 3 AC Transit races, the State Senate race and more. They are found the LWVBAE YouTube Page. the Candidate Forums averaged 418 views per video, with some getting over one thousand views. The team was pleased with video performance, however agreed that Zoom rehearsals before each forum would be useful in the future.
Other videos covering the League support of Prop 15, COVID voting protocol in Alameda County, and a Voter's Edge guide were distributed over social media, another 2020 Voter Services strength. The Voter Services Team collaborated with the Communications Team to provide local and state election information over Facebook and Instagram. Consistent posting on all three sites increased following and engagement during the months leading up to the election. The LWVBAE Instagram was a new addition this year, attracting more than 90 new followers. In the future, the Voter Services and Communications Teams plan to set up a more comprehensive posting schedule and provide more links to social media on our website.
Community partnerships and involvement were also effective during this election season. The LWVBAE reached out to food banks, Senior Centers, schools, the Junior League of Oakland East Bay, Latinos Unidos de Berkeley, BAHIA (Bay Area Hispano Institute for Advancement, Inc), and various volunteers to spread voting information throughout the community. The Bike Out the Vote campaign on October 25th, when League members gathered to distribute voting literature throughout Berkeley, Albany and Emeryville was also a success. Plans to reach out to Berkeley City College, Cal Latinx associations and greek organizations, unhoused populations, and other school PTAs are in the works for future election years.
See the results of the 2020 Election for Berkeley, Albany, Emeryville, state propositions, and local measures on our election page. You will also find links to videos of all of the League's Candidate Forums as well as the state propositions video in English and Spanish.
–Lucy Montgomery
All League News