The Environmental Concerns Speaker Series
Monday, February 10, 2020, 7:30-9:00p.m.
Belmont Village, 1100 San Pablo Avenue, Albany, CA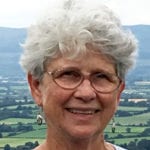 Trish Clifford is an environmental activist living in Richmond. She is part of the Alameda County Citizens' Climate Lobby and leads their Alliances and Endorsements Team.
The Citizens' Climate Lobby is a non-partisan organization with members throughout the United States, Canada and other countries, which advocates for effective climate legislation. Its key purposes are listed as creating a political will for a sustainable climate, while empowering individuals to exercise their personal and political power.  Citizens' Climate Lobby is composed of local volunteer groups who lobby their elected representatives and work through local outreach and media. Their goal is to cut greenhouse gas emissions and promote a transition to a renewable energy economy through a market-based approach: a revenue neutral 'carbon fee and dividend' approach to pricing carbon pollution from fossil fuels, and simultaneously ending subsidies to fossil fuel companies. In the United States, using a market-based approach by putting a price on carbon is gaining support from both Republicans and Democrats.  CCL believes that a revenue neutral carbon fee and dividend is a bipartisan solution that would effectively address carbon emissions, while not relying on a complex regulation approach.
MEETING PLACE: Belmont Village, 1100 San Pablo Avenue, Albany.
FREE parking garage available, simply tell the front desk you are there for the LWV meeting.
Everyone is welcome. Bring friends. Come early for tea and cookies.
Let us know if you need a ride.
Carol Stone (510) 549-0959,  seastone11@gmail.com
Jeanette Zerneke (510) 599-6506,  zernjl@gmail.com
All League News