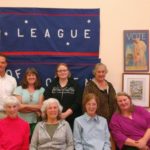 The Mayors of our three cities will speak on a panel about housing issues at our Spring meeting the evening of Thurs, May 11, at the Chinese Community Church on Action St–a new location for us.
Please put this date on your calendar. A tasty supper will be available–but optional–before the panel.
Our Annual Business Meeting will convene after the Mayoral Panel. Members will have the opportunity to vote for the new officers and board members, discuss and approve the budget, policy priorities and bylaws changes and make recommendations to the new officers and board.
All League News