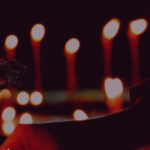 On January 6th, 2023, the League of Women Voters of Berkeley, Albany, Emeryville and Alameda County Leagues hosted a sundown vigil in remembrance of the 2021 insurrection. Leagues throughout California cohosted this event. Two years after the tragic attack on the US Capitol, approximately 200 attendees came together to remember the day as they rededicated themselves to defending American democracy.
Alameda County Council Chair and host Syeda Reshma Inamdar opened the program with a welcome and a moment of silence to commemorate the lives lost during the Capitol attack. She asked the attendees to share what they remembered their feelings to be on that day. Attendee Elizabeth King recalled feeling, "Scared! Angry! Horrified!" while Beth Ballmann mentioned being unable to endure watching it. "Couldn't take it," Ballmann wrote. "Had to turn off (the) TV on Jan 6, 2021."
League of Women Voters of California Nominating Committee Chair Carolina Goodman then introduced the League's Chief Executive Officer, Virginia Kase Solomón, to deliver a speech about the events and repercussions of the day. People from D.C., Kase Solomón said, knew that trouble was brewing at the time and are still processing the day that will perpetually stay imprinted in their brains.
Kase Solomón described her own personal experience as a D.C. resident leading up to the destructive protests, and what she and others saw and feared was coming. While rioters were marching past her house, some ripped up the signs in her front yard and  shouted "All Lives Matter" chants.
"People that were claiming to be patriotic were coming. What we saw that day was anything but patriotic," she said.
Kase Solomón stressed the importance of our work to uphold democracy and hold our government officials accountable. To prevent this from happening again, among other things, she urged us to tell the truth instead of whitewashing history. The League has and continues to strive to tell the truth and combat mis-, dis-, and malinformation. When asked how California Leagues could assist in places where voter suppression is most palpable, she said it was possible to establish sister Leagues in different states, such as Georgia, and Arkansas, to provide nationwide support to Leagues with fewer resources.
Please watch the video of the full vigil if you were not there. It features LWVC President Carol Moon Goldberg, Bay Area League President Roma Dawson, LWVBAE President Kandea Mosley Gandhi and Lorrel Plimier, President of the Piedmont League and one of the event's lead organizers.
–Cate Menotti
All League News