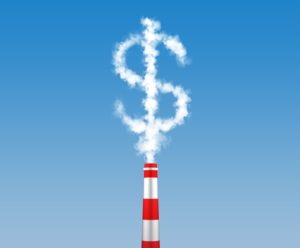 The Price on Carbon Committee of the League of Women Voters of the U.S. invites you to a webinar on carbon pricing. RSVP to join us on February 21, 11:00 am to noon for an insightful and informative presentation by a leading voice on climate change, Dr. Naomi Oreskes.
As the evidence of accelerated climate change and its impact on society mounts, there is an increasing sense of urgency to find solutions. Learn how putting a price on carbon works and why scientists, economists and world leaders view pricing carbon as an essential strategy for reducing greenhouse gas emissions and stimulating the growth of clean, renewable energy as the fuel of choice moving forward.
The webinar will feature Dr. Naomi Oreskes, a professor of the History of Science and affiliated professor of Earth and Planetary Sciences at Harvard University.  She is the author of both scholarly and popular books, and in recent decades has focused on the issue of anthropogenic climate change.
Her 2010 book, Merchants of Doubt: How a Handful of Scientists Obscured the Truth on Issues from Tobacco Smoke to Global Warming, co-authored with Erik M. Conway, was shortlisted for the Los Angeles Times Book Prize, won the Watson-Davis Prize from the History of Science Society, has been translated into eight languages, and adapted as a film.  Oreskes and Conway have also written The Collapse of Western Civilization. Oreskes wrote the introduction to the Melville House edition of the Papal Encyclical on Climate Change and Inequality, Laudato Si' in 2015. Also in 2015 the New York Times published a long piece on Oreskes, "Naomi Oreskes, a Lightning Rod in a Changing Climate".
All League News