The Environmental Concerns Speaker Series
Monday April 8, 2019, 7:30-9:00p.m. Belmont Village, 1100 San Pablo Avenue, Albany, CA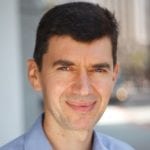 Pierre Delforge, Senior Scientist at the Natural Resources Defense Council (NRDC), discussed local and state policy opportunities to accelerate progress toward a decarbonized world including the California Energy Commission's latest report that puts Building Decarbonization front and center for the first time, representing a bold – and necessary – shift in energy priorities. It could also save Californians hundreds of dollars annually on their utility bills and create 3.3 million local jobs by 2050.
Pierre Delforge, Senior Scientist for Building Decarbonization, Climate and Clean Energy Program, joined NRDC in 2010 after a 20-year career in the technology industry. At NRDC, he works on policies to accelerate the clean energy transition in buildings, with a focus on decarbonizing space heating, water heating, and plug-in equipment. Previously, Delforge was lead energy and climate strategist for HP's sustainability group. He holds degrees in engineering and computer science from Ecole Centrale de Paris and Cambridge University. He lives in Kensington.
BLOG: HTTPS://WWW.NRDC.ORG/EXPERTS/PIERRE-DELFORGE
MEETING PLACE: Belmont Village, 1100 San Pablo Avenue, Albany.
FREE parking garage available, simply tell the front desk you are there for the LWV meeting.
Everyone is welcome. Bring friends. Come early for tea and cookies.
Let us know if you need a ride.
Carol Stone (510) 549-0959, seastone11@gmail.com
Gail Schickele (415) 336-5673, gail.schickele@gmail.com
All League News