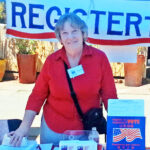 Volunteer on Sunday, September 10. Come and represent the League for one or two hours registering voters and explaining why we love the League.
Enjoy the parade and chat with some of the hundreds of people who flock to the stroll. The frequent praise of the League and the interesting questions, keep you engaged and busy. We'll be among the vendors, entertainers, food booths, government and nonprofit agencies whose booths line the Stroll.
If you are interested, please email info@lwvbae.org.
All League News