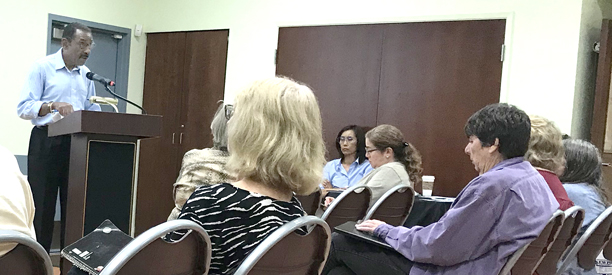 ALBANY, CA – In preparation for the 2020 census, Alameda County Supervisor Keith Carson and the City of Albany held a townhall meeting at the Albany Senior Center on September 20th to discuss challenges and changes in the effort to capture an accurate count of the local population.
Carson said every Albany resident must participate in the 2020 census, and that the Alameda County Census Bureau aimed to decrease the undercounted population to 6%.
Carson reported that "60% of county funding comes from the federal government and each person not counted equates to a loss of $1,000 in funding per year."
He outlined the county's current plan and strategy to decrease the number of residents who are undercounted. He also said that the 2020 census will be the first to be administered digitally, and that Alameda County expects over 60% percent of the population to complete the census online.
However, this change to an online census will make it harder to reach some residents, such as elders who are not familiar with computers, and people who don't have internet access. Carson said the other groups that are considered "hard-to-count" include the homeless, people who are couch-surfing, those living in cars and shelters, people who don't speak English, and many others.
During the second part of the census meeting, Alameda County Census Bureau staff asked the audience for advice on how to reach hard-to-count populations. A majority of the approximately 30 people at the town-hall offered ideas and participated in the discussion.
Towards the end of the evening, county staff thanked the audience for attending and for sharing ideas about how to ensure everyone is counted. County staff members said that the audience's suggestions will be considered as the county develops its final community outreach plan.
All League News