Homelessness & Affordable Housing is a local priority for the League of Women Voters Berkeley Albany Emeryville in 2020-2021.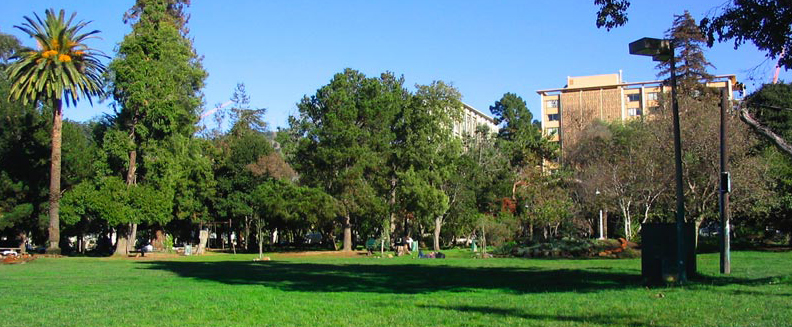 UC Berkeley Introduces a Plan to Develop
Student & Supportive Housing in People's Park
UC Berkeley held two events in February and March to unveil plans for building housing in People's Park. The open houses that took place on UC Berkeley campus were attended by students and community members who were all curious about the development plans. Different stands were set up around the space, each focusing on an aspect of the development.
The stands highlighted specific parts of the development and emphasized the University's efforts to hear from the community. One stand allowed the public to add a post-it note with one word describing how they felt about People's Park in the past, present and future. Some descriptions included "dangerous", "community" and "opportunity". Other stands displayed possible designs for the space and a timeline of People's Park throughout history. 
University representatives explained that the decision to build on People's Park was prompted by a shortage of student housing. The proposed project includes open space areas as well as supportive housing units. UC Berkeley offers housing to only 23% of its students 𑁋 the lowest proportion out of all of the University of California schools. At one stand the University stated its main goals of the project which were to address both student and affordable housing needs, improve safety for the campus and the neighborhood, and respect the history of People's Park. The student housing is expected to be completed in 2024-25.
The development of People's Park has faced opposition from some community members as they feel the University is disrespecting the history of People's Park and is eliminating valuable community space. Although there is not a formal group organizing against the development, at both events there was strong attendance from people who were protesting the project. One of the protesters felt the University had neglected the space and painted a false image to its students about the park being dangerous. 
The University chose Resources for Community Development (RCD), a nonprofit organization, to design the supportive housing. RCD is planning to build 100-120 supportive housing units that provide various supportive services to its residents. They are partnering with LifeLong Medical Care to offer the free services that will be tailored to the occupants. 
RCD plans on funding the project through government subsidies and private sources. Where the funds come from for the supportive housing project will ultimately determine who lives in the units and the requirements of the housing. 
The People's Park project is still in its early phases of development, but the plan to build student and supportive housing is set. The final design has not been decided, but in addition to the open houses the University has been holding focus groups which include neighboring businesses, churches and others.
–Minh Khai Spencer

All League News