The League's spring internship program has officially begun! Eight new additions were added to the team this time. President Kandea Mosley, Communications Director Linda Carothers, and Housing Team Leader Greg Magofña were present at the meeting along with interns: Communications Team Intern Maggie Ju, Housing Team Intern Tillie Margulies, Criminal Justice Team Interns Alex Li and Kesenia Goldstein, Climate Interns Sonja Wooley and Jaden Shochet, and Diversity, Equity, and Inclusion Interns Emma Martinez and Arabella Loste. These interns are ready to help the organization in their respective areas and work hard to create a difference.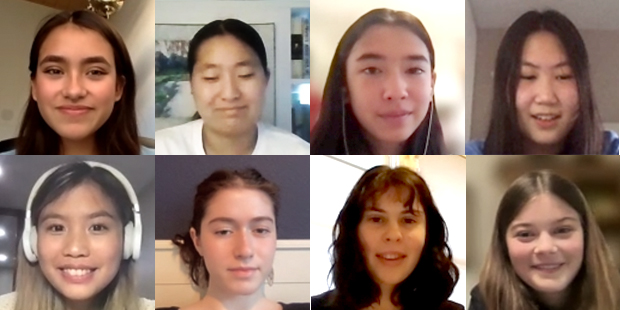 During the orientation on January 16th, interns were first introduced to the League's history, structure, values, nonpartisan policies, [the interns] recognize that [they] all represent the League and that the President speaks for the League. Interns also learned about League research  studies, culture, DEI, generational differences, political priorities, and the organization's relationship with local governments.
The interns learned that the League is active through lobbying, educational events and forums, being active in the political areas they choose to emphasize, mentoring and training, voter registration, and in other ways as well.
Next, interns played some icebreakers to get to know each other better. One of the questions was when and how they got into politics. Diversity, Equity, and Inclusion Intern Emma Martinez said, "I got into politics during my middle school years. During that time I was surrounded by people with different political ideologies from me and it was fun and interesting to spark conversations with them about our different views on social and economic issues." Most interns said the 2016 election made them more interested in politics. 
Finally, the orientation ended with an overview of the League's expectations and individual tasks. The interns will be meeting every month and the Communications Intern Maggie Ju is excited to work with them since everyone is very smart, energetic, and responsible. 
–Maggie Ju
All League News