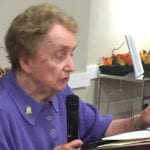 Pioneer environmental activist, former Berkeley Mayor and City Council Member and continuing advocate for preservation of East Shore Parks, Shirley Dean wowed the monthly Environmental Concerns audience at Belmont Village Nov. 11 with a rapid-fire rundown on rising sea level threats along the East Bay shore – all without PowerPoint slides! Displaying in depth knowledge and understanding of natural, as well as man-made, contributors to dangers developing in Emeryville, the Berkeley Aquatic Park area and Richmond's Point Molate, Dean nevertheless pointed to specific steps the public could take to help mitigate them.
With energy belying her 70+ years, Dean even urged LWVBAE to inform the community as to what each person could do to forestall the "temperature of no return" recently predicted by climate scientists to be a scant 12 years away.  Handed a brochure recently created by LWVBAE's Climate Team to advise homeowners on upgrading their homes away from fossil fuel dependence toward 100% renewable energy, Dean expressed surprised thanks as her face eased into a smile. After a fruitful Q & A, the appreciative applause for Mayor Shirley Dean showed that EC co-chairs Carol Stone and Jeanette Zernecke had once again made the audience glad to have heard another outstanding environmental talk.
–Ruby MacDonald, President.
All League News