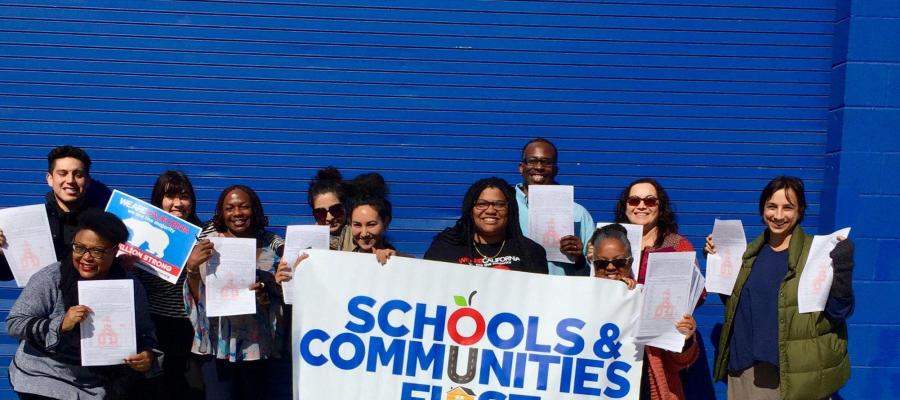 Game changer! The state Steering Committee of the historic "Schools and
Communities First!" Campaign to fix part of Proposition 13 announced Apr. 6 that
its signature gathering will be extended from Apr. 24 to June 30. This change will allow putting
this landmark measure, requiring reassessment every 3 years of large business properties
(but not residential, rental, small business and agricultural properties), on the ballot in Nov.
2020, instead of Nov. 2018.
According to LWVC and its coalition partners, significant benefits of this change will be
1) saving campaign funds by meeting the lower qualifying signature threshold of
2014, instead of the anticipated higher signature threshold of 2018, 2) putting our
measure at the top of the ballot by qualifying in 2018 for the election in 2020, 3) having
more time for our coalition to raise campaign funds and awareness of the need to
reform Prop. 13 and to mobilize a larger base of support including young voters turning 18
in Nov. 2020, whom the LWVBAE Voters Services Team has helped recruit, and
4)avoiding confusion with the Jarvis measure seeking to EXTEND Prop. 13 for elderly
homeowners to all California counties, which the LAO says could reduce the yield of
state property tax revenue.
Meanwhile, LWVBAE volunteer signature gathering efforts continue to target
voters overlooked by paid signature gatherers – i.e. teachers' unions, marches by activists,
stay-at-home voters, festival (e.g., upcoming Earth Day!) attendees and Farmers' Market goers. The effort of LWV California is "leading the pack in volunteer signature gathering statewide," according to LWV Los Angeles President Elizabeth Ralston, and LWVBAE is contributing mightily to this success. Let's keep up our good work and do as much as we can to pass "Schools and Communities First!" so that it yields up to $10 billion in new revenue for our children and communities in need!
All League News