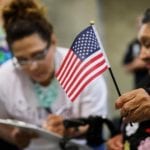 The League is proud to co-sponsor #SB72, which will allow eligible voters to register and vote on Election Day at every neighborhood polling place beginning in 2020. By doing so, California will join 15 other states who currently permit or are considering permitting Election Day registration.
Find out more about SB 72 and other bills we are supporting and/or opposing in our Bill Status Report: http://bit.ly/2019LWVCBSR
Senator Thomas J. Umberg (D-Santa Ana), Chair of the Senate Committee on Elections and Constitutional Amendments, announced his introduction of this major legislation on March 7.
Same day voter registration will allow every California citizen an opportunity to vote – an invaluable tool for voters with hectic jobs and busy lives.
"California must do more to strengthen people's right to vote and close voter participation gaps impacting low-income voters, young voters, and voters of color. SB 72 will make voting more accessible and ensure that all voters' voices are heard, because no eligible voter should be turned away on Election Day," said Raúl Macías, Voting Rights Project Manager & Attorney.
Senate Bill 72 is co-sponsored by the League of Women Voters of California (cosponsor), California Common Cause (cosponsor), and the American Civil Liberties Union of California (cosponsor), and is supported by the California Public Interest Research Group (CALPIRG). It is expected to heard in the Senate Committee on Elections and Constitutional Amendments on April 2.
All League News