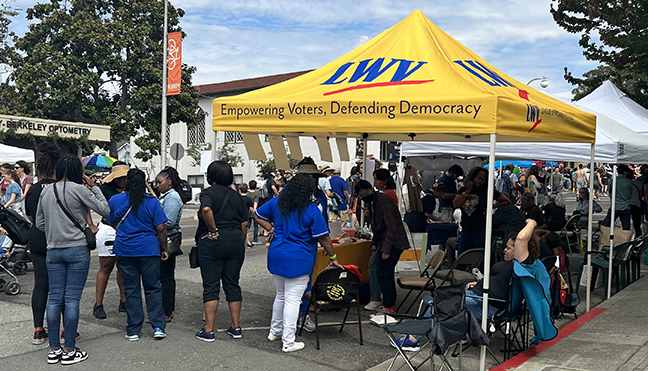 Dear Friends and Supporters,
Thank you for your trust and engagement in the League of Women Voters of Berkeley, Albany, Emeryville (LWVBAE), which has allowed us to accomplish so much in this last year alone. As voter and political needs change, your membership has enabled us to keep up with the times and remain active at the local, state, and national levels of our democracy. Because of you, we have had a voice in setting the future direction of the national League, and been able to adapt to the sped-up timetable of California elections.
As you know, LWVBAE delivers fact-based educational services in these politically fraught times, in which there is an ongoing need for the conscientious, civil voice LWVBAE offers. By renewing your membership and sending year-end gifts, you keep us strong and able to continue our essential work. Please see some of the accomplishments we are most proud of that you made possible in 2022.
Educational events offered by our flagship Environmental Concerns Speaker Series, and upcoming ones such as "Not Going Quietly," featuring healthcare activist Ady Barkan
Politically engaged youth in the "Helene Lecar Civic Engagement Program" for local students
Voter Service: Candidate forums and videos for Berkeley, Albany, and Emeryville city council and school board races, community outreach, and up-to-date voting information
DEI: Translated presentations and handouts of our pros and cons not only locally, but also for statewide propositions in Spanish and Cantonese
Action: Advocating for the local measures on the ballot in our three cities
We thank you in advance for your renewed membership and donations to support these and other important programs.
You can renew your membership online. It remains free for students, $75 for members, $115 for joint household members, and at a reduced rate/along a sliding scale if required.
You can also renew by mailing a check, using the form below, to our office, 2530 San Pablo Ave, Ste F, Berkeley, CA 94702.
Thank you again for your continued commitment to LWVBAE!
Sincerely,
Kandea Mosley Gandhi,  President, LWV of Berkeley Albany Emeryville
Generous Donation (circle one):  $250  $100  $50  (other) $_________
Membership Type: ___Regular ($75)   ___Household ($115)    ___Other (Amount) __________
Print Name: __________________________________________________________________
Name of Household Member (if applicable):_________________________________________
Address: ____________________________________________________________________
Home Phone: _____________________________Cell Phone:__________________________
City, State, Zip: ___________________________________Email:_______________________
All League News