The Re-Imagine Adeline Exhibit will be on display again at the Ed Roberts Campus Sat, March 25 and Monday, March 27th through Friday, March 31st. Open hours on chart below.
The City of Berkeley also has new online resources with lots of information and  3-dimentional displays about the proposed project. Links to individual displays are here. At the same location, you will find a detailed history of the planning process up to this point. If you are interested in following this process, you will find essential information on and linked to this page.
The City has announced, in its recent press release, that it is "re-launching the community planning process to develop a specific plan for the Adeline/South Shattuck corridor by displaying the "Re-Imagine Adeline" exhibit.  The exhibit brings together "detailed community input collected and technical analysis conducted over the past two years into three coherent visions for the street and public space in the Adeline Corridor." Background about the earlier and future planning process are provided.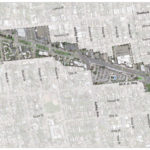 Questionnaires and Feedback from the Public: Staff will be available at hours indicated below to answer questions. An online Questionnaire is available here.  Responses can be submitted from Mon, Feb 21 to Sat, April 8. They will be incorporated into the future reports.

Paper versions of the questionnaires will be available at the exhibit.
The City requests feedback from the public so that City staff and a new consultant team–to be selected–can go the next stage of the planning process–to work with the public to develop a "preferred concept for the Adeline/South Shatuck right-of-way and a draft Specific Plan for the area." [Note:  "Specific Plan" has a technical and legal meaning here. A Specific Plan is a comprehensive planning and zoning document for a defined geographic region of the City. It guides the future planning decisions of the City."
Display Open Hours and Staff availability Hours shown below.
| | | |
| --- | --- | --- |
| Date                   | Exhibit Hours                      | Staffed Hours*                        |
| Sat. 3/25 | 10am-4pm | 10am-4pm |
| Mon. 3/27 | 8am-7pm | 5pm-7pm |
| Tues. 3/28 | 8am-7pm | 11am-2pm |
| Wed. 3/29 | 8am-7pm | 11am-2pm |
| Th. 3/30 | 8am-8pm | 6pm-8pm |
| Fri. 3/31 | 8am-7pm | 11am-2pm |
All League News