Three Faces of the Same Crisis
Christopher Herrera of Rainforest Action Network will describe RAN's work fighting for the environment in Indonesia and elsewhere on Monday, Sept 9th, 2019, 7:30-9:00 p.m. at Belmont Village, 1100 San Pablo Avenue, Albany, CA.
Rainforest Action Network, www.ran.org, has been fighting for people and planet for 30 years. Communications Director Christopher Herrera will share how RAN takes on some of the biggest causes of climate change and forest destruction — including current campaigns targeting the palm oil industry, the fossil fuel industry, and even the Tokyo 2020 Olympics.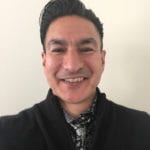 Christopher has worked in social change communications for more than 20 years. He enjoyed seven years at the American Civil Liberties Union of Southern California, eventually serving as the Director of Public Education. In 2000, he became the first Communications Director at San Francisco-based Tides Foundation, developing communication platforms and websites around grant making initiatives on economic justice, environmental sustainability, reproductive justice, Indigenous rights. Christopher joined RAN in 2014.
The main work RAN is doing is in Indonesia.  Indonesia, like Brazil, has had problems with illegal burning in the rainforest for a long time. It's illegal but there is a lot of corruption.   Farmers burn the rainforest to plant palm trees.  Besides causing horrible air pollution and adding to climate change, these forests are where some of the last Orangutans live.    Herrera will describe RAN's community work there, as well as the campaign to boycott palm oil, which they are taking to the Olympics in Tokyo.

MEETING  PLACE:   Belmont Village, 1100 San Pablo Avenue, Albany, CA  7:30-9 p.m.
FREE parking garage available, simply use the speaker at the garage entry to tell the front desk you are there for the LWV meeting.
Everyone is welcome. Come early for tea and cookies. Let us know if you need a ride.
All League News