When this action alert is active: October 12, 2023 to October 31, 2023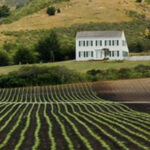 The League of Women Voters of the United States has joined nearly 650 other organizations in a letter to congressional agriculture committee leadership, urging them to protect the $20 billion investment in climate-smart agriculture and conservation technical assistance, funded by the Inflation Reduction Act, and to maintain it in the 2023 Farm Bill. Read the letter here.
Contact your federal representatives NOW to urge the protection of climate-smart agriculture.
California's agricultural industry employs almost 10% of our workforce, provides more than 50% of the fruits and vegetables consumed in the United States, and is vital for our nation's food security. Our agricultural lands are also an integral part of the state's climate strategy. Climate-smart agricultural practices build healthy soil, protect topsoil, increase water efficiency, improve biodiversity, increase carbon sequestration, and are an essential tool for farmers to build resilience to drought. Our farmers need assistance to build a resilient, equitable and sustainable food system. To learn more about our policies and work in this area, read the Climate Smart Agriculture and Food Action Policy.
Please ask your federal representatives to protect climate-smart agriculture and conservation technical assistance in the 2023 Farm Bill.
Sincerely,
Stephanie Doute, CAE
Executive Director, LWVC
All League News