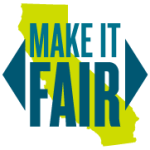 LWVBAE Caucus on "Fix Prop. 13" at State Convention! LWVBAE's Civics Ed/Reform Prop. 13 Team will present its caucus titled "Fix Prop. 13" on Friday, June 2, at 9 PM at the 2017 State Convention in Sacramento! The Caucus Subcommittee (Amy, Esteem, Adena, Ken and Elise) welcomes anyone wanting to lend a hand in staging an educational/entertaining tour-de-force on the origins, unintended consequences and opportunities for reform of the formerly notorious  third rail of California politics.
Team Meeting: Sat., April 15, 10 am to noon at the LWVBAE Office 2530 San Pablo Ave, League members and nonmembers are invited attend the regular monthly meeting of the LWVBAE Civics Ed/Prop. 13 Reform Team. On the agenda will be 1) an update from the Subcommittee tasked with Outreach to local Leagues around the state so that members of those local Leagues can lobby their legislators as constituents, 2) presentation of the draft Reform Prop. 13 brochure by the Brochure Subcommittee and 3) a progress report by the Caucus Subcommittee on the Reform Prop. 13 caucus to be held at the LWVC convention in Sacramento June 2 at 9 PM. If time permits, making "Reform Prop. 13" signs for future events will tap into our artistic talents!
Make It Fair Constitutional Amendment in Sacramento–Date Change: The re-introduction of the Reform Prop. 13 state constitutional amendment in Sacramento by State Senators Nancy Skinner and Holly Mitchell has been rescheduled to late April from mid-April. This delay gives anyone needing bus transportation to Sacramento for the event more time to sign up with Ruby MacDonald (ruby@lwvbae.org).
All League News