Dear League and Community Members,
After the League of Women Voters co-sponsored the second Women's March, I wanted to address our nonpartisan status.
In the past year, we have been vocal against many of this federal administration's policies, and we have been accused of being partisan. Let me assure you that the League is, and will always be, a nonpartisan organization. We never support candidates or parties. We only take positions on issues that we have studied from all sides, and our studies go through a rigorous process that sometimes takes years. Climate change, health care, and immigration were not always partisan issues.
The Berkeley, Albany, Emeryville League co-sponsored the Oakland Women's March this year because we believe in the power of women, and we believe that voters have rights. We marched for our positions, and as always, we marched for democracy.
This year, the theme of the Women's March was "Power to the Polls", and in keeping with that theme, our League needs your help!
Join the League and help make democracy work!
Volunteer to help us pre-register and register high school students to vote. We are working on a big campaign, and we need many more volunteers.
Donate to the League, a 501(c)(3) organization, so we can continue our work.
Thank you for supporting your local League of Women Voters!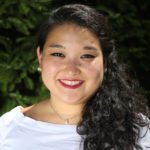 Sincerely
Adena Ishii
President
League of Women Voters of Berkeley, Albany, Emeryville
All League News