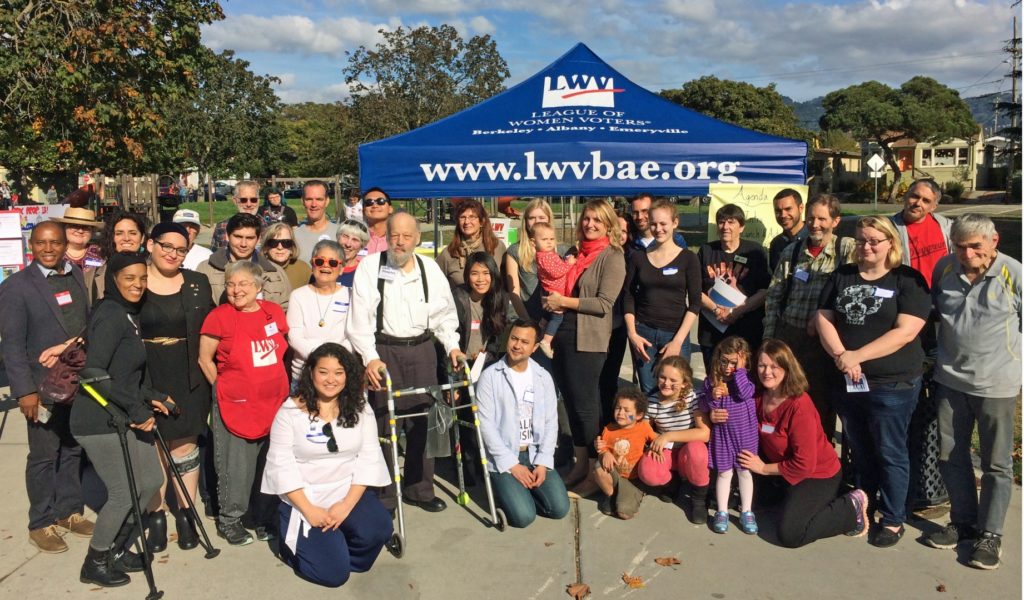 A cheerful crowd of about forty turned out to enjoy our Veteran's Day Picnic. Included in the gathering were Albany Mayor Peggy McQuaid, Emeryville Mayor Scott Donahue, and Berkeley City Council Member Ben Bartlett and his wife. Richie Smith also stopped by. She recently received a Proclamation from the Berkeley Mayor Jesse Arreguin, honoring her work as an active citizen of the South Berkeley Adeline Corridor. [For a guide to those in picture, see bottom of article.]
A Yolo County Fireman who grew up in Berkeley came over to help us put up our large handsome new canopy and stayed to chat about politics there and here. Parents and children enjoying the park were glad to be invited to join us for lunch and stayed to learn a bit about the League and our doings.
Children and teens joined in some of the games that our teams had invented to explain their activities in an amusing way. The CivilTalk Team used the old game of "Telephone" to illustrate how easily messages are distorted when speakers don't: look each other in the eye, don't listen carefully and listeners don't have a chance to respond in a way that shows whether they have actually heard and understood the original message.  A rhymed variation on "Jack and Jill' got slightly garbled by one group and very garbled by the competing group…the youngest participant looked about 7 and seemed to enjoy it even more than the grownups.
A colored wheel to spin attracted players to the Climate Change Team's Question Game. Players received small green potted plants as prizes.
Civics Ed/Prop. 13 Reform Team did a "Put $9 billion into CA Treasury" version of "Pin the Tail on the Donkey" game to educate players about the benefits of and need for Prop 13 reform.
Preston Jordan drew folks to the Action Team table with a puzzle map of Berkeley's City Council Districts. Participants had to guess how many of the approximately 14,000 residents had voted in their last City Council race in 2014 or 2016. The range was from about 8,000 to less than 2,000.
Instant postcard lobbying at the Communications Team table prompted 10 postcards to Senators Feinstein and Harris and Rep. Barbara Lee on priority League issues including: Climate Change,  "a clean and clear" path to citizenship for DACA and all undocumented members of families, women's health, and women's right to have insurance cover contraceptives. Look for the postcards at future League meetings for quick effective lobbying messages to our electeds. We are fortunate that our elected officials usually agree with League positions–but they need to be thanked and reminded that we support them from time to time.
Winners, and even losers, of the election facts quiz at the Voter Services table got delicious and enormous Semifreddi cookies.
At two o-clock President Adena Ishii, with the help of a young volunteer, drew a host of prize winners from the names of participants who had visited all the team tables. Sturdy backpacks and League cufflinks and pens were among the many prizes.
We achieve the main purpose of the picnic– new and longtime members got acquainted and learned a bit more about the League–a bonus was that we made new friends too.
Guide to group photo when known: Back from Left, Berkeley City Councilmember Ben Bartlett, Elise Mills, Ben Bartlett's wife, Bob MacDonald, Preston Jordan, Andrew, Marybeth Falzareno, Bridget Smith, Albany Mayor Peggy McQuaid, Esteem Brumfield, Emeryville Mayor Scott Donahue, LWVBAE Treasurer Emily Beckhusen, Board Member Ken Bukowski
Middle row, from left: Webmanager Linda Carothers, Prop 13 Reform Team Leader Ruby MacDonald, Membership Director Jinky Gardner, AC Transit Director Chris Peeples,
Front row: Cheryl Sudduth, Communications Coordinator Nancy Bickel, Voter Editor Marian Gonzales
Kneeling: President Adena Ishii, E-Blast Editor Greg Magofna, Elizabeth Echols and her daughter.
All League News