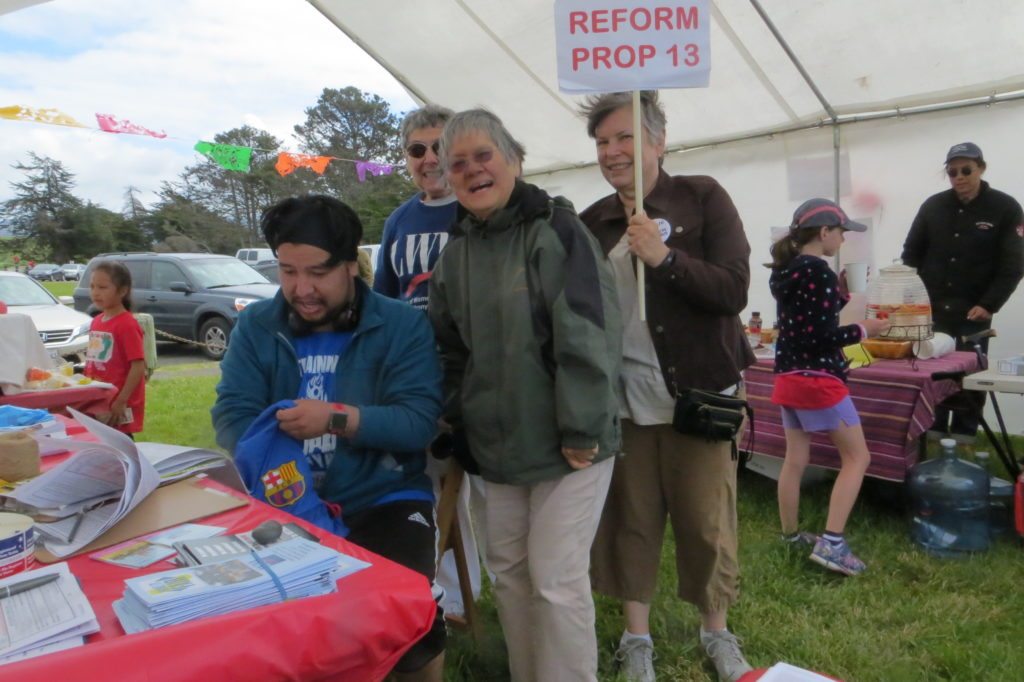 Seizing a new opportunity to promote "Schools and Communities First!", LWVBAE Prop. 13 Reform Team members accepted the kind invitation of Director Beatriz Leyva-Cutler to table at the Bahia, Inc., walkathon for health and festivities Apr. 28 at Cesar Chavez Park. Besides collecting about 2 dozen signatures to put the Prop. 13 measure "Schools and Communities First!" on the 2020 ballot, the Team was elated to register two young people to vote – one a recently naturalized citizen shown in photo with Team members Maggie Goodman, Helene Lecar and Ruby MacDonald.
Stiff Bay winds threatening to blow away tarps and assorted paraphernalia could not dispel the enthusiasm of children having their faces painted, competing for prizes and munching on savory fare — much less that of their parents gratified at their children's enjoyment. A chance to help fix Prop. 13 by having property taxes of large businesses reassessed every 3 years–but without affecting those of homeowners, renters, small businesses and agricultural property owners–topped off a great day for all!
Do you have signed petitions at home? in your car? Send them in to League office, 2530 San Pablo, Berkeley 94702. We still need more signatures.
League volunteers are leading the way! LWV Berkeley, Albany, and Emeryville–coordinated by Ruby McDonald and Pat Tostenson–now leads in total signatures gathered – with 951 signatures reported as of April 13. The Palo Alto League (coordinated by Diane Rolfe, Lisa Ratner, and Sigrid Pinsky) reported 342 new signatures last week, bringing that League's total to 928 – edging out LWV Cupertino/Sunnyvale (Linda Davis) at 892. LWV Oakland (Gail Wallace) is doing well also, reporting almost 700. Altogether, League members have reported gathering over 6,000 signatures!
The deadline for turning in petitions has been extended to June 30–see related story–so you can still collect signatures.
Have you turned in the petitions you received in the mail? Please mail or drop off to the League office at 2530 San Pablo Ave, 94702, right away.
All League News