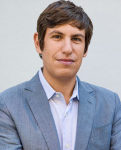 Ari Berman, media commentator and author will speak at the ever-popular Oakland League All-City Luncheon and Making Democracy Work Awards event on Wednesday, April 19, from 11:15 am to 1:30 pm at the Oakland Scottish Rite Center, 1547 Lakeside Drive, Oakland, CA 94612.
The Oakland League advises that attendees register and reserve their seats as soon as possible here.  Deadline for registration is April 12, 2017.
Description
The League of Women Voters of Oakland cordially invites you join leaders from Oakland's business, non-profit, government and political communities as we celebrate our city and the work of the League.
Our guest speaker, Ari Berman, acclaimed media commentator and author of Give Us the Ballot: the Modern Struggle for Voting Rights in America, will share his thoughts on what we can do to expand voter empowerment and participation. More about Ari Berman below.

We will honor the winners of the 2017 Making Democracy Work award: Oaklanders who have had a vision for improving Oakland and mobilized others to get there.
Arabella Martinez, a founder and first CEO of the Unity Council
The Martin Luther King Jr. Freedom Center
---
11:15 AM Registration & a time for networking
12:00 – 1:30 PM Luncheon and Program
R.S.V.P. by April 12, 2017 – this popular event regularly sells out, so reserve your seat now.
Not a League member? Join here!
We invite you to host a table! Click here to learn more about this.
*Because the League engages in political advocacy, contributions to LWVO are not tax deductible.
---
If you prefer to write a check, please make checks payable to LWVO and mail to:
League of Women Voters of Oakland, 436 14th Street, Suite 1213, Oakland CA 94612-2723
To make a tax-deductible contribution, make checks payable to the League of Women Voters Education Fund (LWVEF). All but $45 for each lunch received is deductible to the full extent of the law.
More about Ari Berman
Ari Berman is a senior contributing writer for The Nation magazine and a Reporting Fellow at The Nation Institute. Business Insider named Berman one of the "50 most influential political pundits" in the US. He's written extensively about American politics, civil rights, and the intersection of money and politics. His stories have also appeared in The New York Times, Rolling Stone, The Atlantic, Politico and The Guardian, and he is a frequent guest and political commentator on MSNBC, NPR and C-Span. He's lectured extensively around the country, including at the White House, Congress and the Supreme Court.
His new book, Give Us the Ballot: The Modern Struggle for Voting Rights in America, was published in August 2015 by Farrar, Straus and Giroux and in paperback by Picador. It was named one of the best books of 2015 by the New York Times, Washington Post, NPR, The Boston Globe and Kirkus Reviews. Give Us the Ballot was a finalist for the National Book Critics Circle Award for nonfiction and a nominee for the American Library Association's Andrew Carnegie Medal for Excellence. Writing in the Washington Post, Congressman John Lewis called the book "a must read" and "a primer for every American."
Read a review of his book, Give Us the Ballot.
Listen to Ari on NPR's Fresh Air in August 2015.
All League News