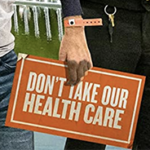 The League of Women Voters of Berkeley, Albany, and Emeryville (LWVBAE) and co-sponsors invite you to join us for the second event in the series "Our US Healthcare System: Facing the Challenges and Bucking the Odds."
On Thursday, November 17, from 6 to 8:45 PM, we will present the documentary, "Not Going Quietly," which chronicles the response of lawyer and activist, Ady Barkan, when a bill is introduced in Congress that would cut disability benefits he needs for the care of his amyotrophic lateral sclerosis (ALS). The film and panel discussion that follows will be presented virtually and will be free for all attendees.
To register for the event, Click HERE .
All League News