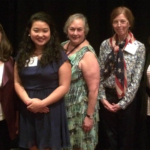 Haven't found your passion in the League yet? We won't be holding our usual first Saturday afternoon New Member Social in May–So come to Annual Meeting instead– see the story on our home page. Treat yourself to the buffet supper—-or bring your own meal. Hear the mayors of our three cities speak. Best of all–exercise your rights as a league member by participating in our business meeting–help elect our officers and board and make decisions for your League's future.
Whether you are a brand new member, a potential member or a longtime member who is ready to get more active in defending democracy, the environment or another important cause, you are always welcome at League events.
At annual meeting you can chance to learn about current League projects and teams and explore your potential role in League activities. You will be able to meet longtime and new members and talk with them what inspired them to join and be active in the League.
We will serve snacks and beverages….and lots of interesting talk.
Contacts: Jinky Gardner, Membership Coordinator, membership@lwvbae.org and Adena Ishii, Membership Development Coordinator, social@lwvbae.org.
All League News