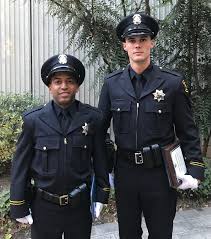 Though the LWVBAE is not conducting a study of community policing at this time, the Board has approved a web report which will report on-going and new issues.  The goal is to inform citizens about policing issues that will affect our community. A new CA law will affect our local Albany, Emeryville and Berkeley police, like the two officers shown at left.
First up is AB 953 (2015) on the issue of law enforcement and racial profiling.  This bill was approved by the Governor and chaptered on October 3, 2015. The law as written, can be found here.   It lists all information that must be collected by a peace officer whenever using a verbal command or physical restraint to stop a person.  This includes the usual identification information and more; for example, the perceived race or ethnicity and gender, approximate age of the person, whether consent for a search was given or not, whether any personal property was seized, and the outcome.
The "Text of Adopted Stop Data Regulations. California Racial and Identity Profiling Act of 2015" was published in late November 2017 as required by law.  Read the regulations here.   Police officers must report on what is requested in Article 3.  The rules are quite detailed and worth the read.  Article 4 gives illustrative examples of actions for types of stops.  Of note is reporting requirements for stops of students at K-12 schools.
The first data collection data requirement was moved to July 1, 2018 by AB 1518 (2017).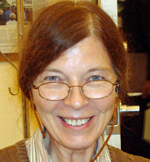 Contact Christine Wenrich at secretary@lwvbae.org for more information.
All League News