Nineteenth Annual Bringing Back the Natives Garden Tour
and Green Home Features Showcase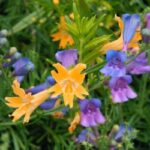 A free In-person choose-your-own Tour Saturday May 6 and Sunday May 7, 10:00am – 5:00pm.
You will be able to visit more than fifty beautiful, water-conserving native plant gardens. Many will also be showing their green home features such as solar panels and batteries, induction ranges, heat pumps, and more. See a list of the Gardens and Homes here. 
Registrants will learn how design a native plant garden for color and interest throughout the year, garden for wildlife, lower their water bills, and protect their family's health and the environment by gardening without pesticides. There will also be a chance to see and lean about home electrification.     REGISTER TODAY!
All League News