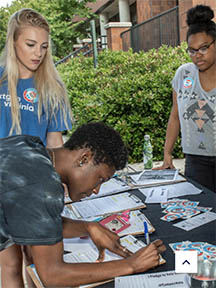 Celebrate National Voter Registration Day with the League of Women Voters Berkeley, Albany, Emeryville! National Voter Registration Day is on Tuesday, September 19, 2023, and is the country's largest single-day voter registration drive, dedicated to getting eligible voters registered to vote. According to U.S. Census data from 2020, as many as 1 in 4 eligible Americans are not registered to vote, and National Voter Registration Day is designed to spread awareness so that thousands of citizens have the chance to vote.
Efforts from the LWVBAE to promote voter registration and engagement include providing registration literature such as National Voter Registration Day stickers and posters, and quarter cards with QR codes for online registration. The Head of Voter Service, Alex Li, along with other volunteers, will be meeting with people and answering questions to assist voters with the logistics of registration.
Among the LWVBAE's partners for National Voter Registration Day are UC Berkeley, Berkeley City College, Albany High School, and Berkeley High School. Interns at Berkeley High and the Youth Council at Albany High will be advocating for the pre-registration of 16- to 17-year-old students. Additionally, the League will be hosting a registration event at Berkeley City College. Contact voterservice@lwvbae.org to get involved as we prepare for 2024!
–Elaine Zhang
All League News