Join us as we celebrate National Hispanic Heritage Month this year from September 15 to October 15! Hispanic Heritage Month is celebrated every year in recognition of the rich and important history and achievements of Hispanic Americans.

Dolores Huerta
Dolores Huerta was born on April 10, 1930, in New Mexico and is a Hispanic American activist. Her father was a miner and farm worker who later became a state legislator. Her mother, who later moved to California, was involved in community activism and greatly influenced her daughter. In 1961, she co-founded the National Farm Workers Association (NFWA) with César Chávez. Huerta led a consumer boycott in 1973, which led to the passing of the California Agricultural Labor Relations Act of 1975, that allowed farmworkers to form unions.

Octaviano Larrazolo
Octaviano Larrazola was the first Hispanic American to serve in the US Senate. He was born on December 7, 1859, in Chihuahua, Mexico. Before his term as senator, he was a principal, teacher, and civil rights activist. He was devoted to fighting for Hispanic American rights. He was also the fourth governor of New Mexico.

Sylvia Rivera
Sylvia Rivera was an Hispanic American activist. She was born on July 2, 1951, and was assigned male at birth. At the age of 17, she was involved in the Stonewall Uprising–in which Stonewall Inn, a gay bar in Greenwich Village in New York City, was violently raided by police on June 28, 1969. During her life, she was heavily involved in the gay rights movement, and advocated for transgender people, who were often marginalized by the larger gay rights movement.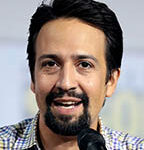 Lin-Manuel Miranda
Lin-Manuel Miranda is a Puerto Rican American actor, composer, songwriter, and playwright. Born January 16, 1980, perhaps his most famous work is the Boardway musical, "Hamilton." His other works include "Encanto," "In the Heights," and "Tick, Tick… BOOM!"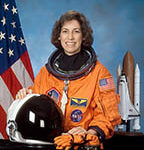 Ellen Ochoa
Ellen Ochoa became the first Hispanic American woman to go to space on a mission in 1993. She was born on May 10, 1958, in Los Angeles. She went to Stanford University and earned her masters and doctorate degrees there. She was chosen by NASA to participate in their astronauts program in 1990. From 2013-2018, she worked as the director of NASA's Johnson's Space Center. Currently she is an engineer.

Alexandria Ocasio-Cortez
Alexandria Ocasio-Cortez, also known as AOC, is a Puerto Rico American politician. She was born October 13, 1989, and is New York's District 14 representative in Congress. Ocasio- was born in the Bronx but moved to Yorktown when she was young. She went to college at Boston University. In January 2019, she became the youngest woman and Latina to ever serve in Congress.
–Sabrina Zou
Sources: https://ocasio-cortez.house.gov/about,
https://www.britannica.com/biography/Ellen-Ochoa,
https://www.britannica.com/biography/Lin-Manuel-Miranda,
https://www.senate.gov/senators/FeaturedBios/Featured_Bio_Larrazolo.htm, https://www.womenshistory.org/education-resources/biographies/sylvia-rivera, https://www.womenshistory.org/education-resources/biographies/dolores-huerta
All League News