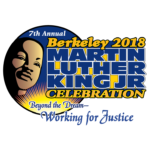 For the 8th year, the Berkeley community will hold a breakfast in honor of Martin Luther King Jr on Monday, January 15, at 8 am at Hs Lordships Restaurant at the Berkeley Marina.

Purchase tickets on line through Eventbrite by clicking here.
A small fee for on line service will be charged.
You may also purchase tickets by sending a check to:
Rotary Club of Berkeley, Attn: MLK Breakfast, 2342 Shattuck Avenue, Suite 101, Berkeley, CA 94704.  Please include your name and the names of your guests as well as an email address.
The rates are Adult $25, Teen 13-18 $15, Youth 12 and under, $10.
Sponsorships are also available and recognized in the program and in other ways: Platinum which includes 10 tickets, $5000; Gold, includes 2 tickets, $1000; Silver, includes 1 ticket, $500; Bronze, includes 1 tickets and is for non-profits only, $250.
Last year LWVBAE was a non-profit sponsor and for several years a group of League members have attended and enjoyed meeting community leaders they had not yet met as well as greeting those they have met and worked with.
The program features a keynote address by Ka'Dijah Brown and a Lifetime Achievement Award for the honorable Carole Davis Kennerly, former Vice Mayor of Berkeley and a member of LWVBAE and a Community Service Award to the Center for Faith, Food, and Justice as well as Next Generation Awards to promising young people
"Lift Every Voice and Sing" will be sung by Tarina Pierce. Clergy offering prayers will include Dr. David Matsumoto, President, Institute of Buddhist Studies, and Rabbi Rebekah Stern, Congregation Beth El; and Rev. Dru Howard. Remarks and Greetings will be made by Pastor Anthony L. Hughes, St. Paul AME Church and Captain Cynthia Harris (Ret.),  Berkeley Mayor Jesse Arreguin,  CA State Senator Nancy Skinner, CA State Assemblymember Tony Thurmond;  Diane Rames, Maxim Schrogin.
All League News