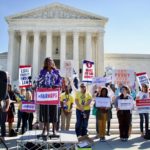 Last week, as the Supreme Court heard oral arguments in the Wisconsin redistricting case of Gill v. Whitford, League members and staff participated in a rally outside of the high court. LWVUS CEO Wylecia Wiggs Harris addressed the crowd saying "it is high time the court took charge of partisan gerrymandering… because voters should select their elected representatives. Elected representatives should NOT choose their voters." We expect the Court will have a decision on this case by June 2018. In the meantime, you can read more about the League's position in this case in our amicus brief. The voting rights sign that staff provided at the rally is now available for download.
Voter registration deadlines are approaching in many states. Now is the time to help voters get ready to head to the polls. There are important local elections this fall and we are still hosting registration events around the country. Encourage voters to use our online voter registration tool to get registered!
Chris
MAKING DEMOCRACY WORK CAMPAIGN
St. Petersburg says 'NO!' to Money in Politics
Last week the City of St. Petersburg City Council made history becoming the first municipality post-Citizens United to abolish Super PACs and limit foreign corporate spending in local elections by passing two campaign finance reform ordinances. The League of Women Voters of the St. Petersburg Area teamed up with the sponsor of the Defend Our Democracy Ordinance in July of 2016. Since then, nearly 30 local, state and national organizations with St. Petersburg roots, representing thousands of local residents, joined to form a coalition that worked to get the ordinances passed over the last 15 months. Congratulations to the St. Petersburg Area League on this major victory!
Gerrymander 5K Walk/Run in Asheville, NC – November 4
The League of Women Voters of Asheville-Buncombe County is hosting a 5K Walk/Run on November 4th to protest Gerrymandering and advocate for a non-partisan redistricting committee. Participants of the Gerrymander 5k will have the opportunity to interact, on a (literal) grass-roots level, with gerrymandering by tracing the border of congressional that splits the city Asheville. To participate or for additional information, visit lwvab.org.
LWV Photo Database
We are excited to introduce a new Flickr site as an image resource to Leagues. We are in the process of uploading the best photos from League events around the nation, as well as a selection of historical images and social media graphics. Take a look here. If you have any questions, or would like to submit your League photos for consideration, please email them to communications@lwv.org.
"Voting is People Power" Rally Sign
Our new "Voting is People Power" rally posters are now available for League use. Interested in getting them printed for your League? Download the print-appropriate files and see the printing guidelines here.
News of the Week
In Gainesville, Florida, efforts are underway to covert to solar and other renewable energy. Learn more in this opinion piece by Carole Fernandez.
Helen Hutchison of LWV California joined The Union Edge to report on Gill v. Whitford and how it could force national districts to be redrawn.
Ohio's upcoming voting rights battle could decide the 2018 midterms, 2020 White House race. The League has joined other advocates in saying the state's "voter records maintenance" process violates the NVRA.
ADVOCACY
LWVTX Wins Temporary Restraining Order Over Voter Information to the EIC
Congratulations to the League of Women Voters of Texas on temporarily stopping the transmission of TX voter data to the Presidential Advisory Commission on Election Integrity run by Vice President Mike Pence and Kansas Secretary of State Kris Kobach. Plaintiffs successfully argued that giving data to the Commission violates state law that protects the privacy of Texas voters.
League Supports We the People Democracy Reform Act
The legislation has been introduced in the House and Senate by Senator Udall (D-NM) and Representative Price (D-NC4) and offers a clear path forward for improving our democracy. This legislation will elevate the voices of the American people so we can be heard over the special interests and partisan bickering. This bill will strengthen our elections with automatic and online registration, enabling more voters to participate in our great democracy.
Supreme Court Hears Arguments in Gill v. Whitford
On October 4th, the Supreme Court heard arguments in Gill v. Whitford, the partisan gerrymandering case out of Wisconsin. The League participated in a rally on the steps of the Supreme Court and was inside the court to hear the argument. Read our breakdown of the argument on our blog or check out the amicus brief we filed in this case.
Trump Administration Begins Repeal of Clean Power Plan
EPA Administrator Scott Pruitt issued a notice of proposed rulemaking proposing a repeal of the Clean Power Plan. This move by the administration puts the interests of corporate polluters ahead of the health and safety of the American public and will have a devastating impact on the planet.
Rally to Support the Dream Act During House Recess
The League supports passage of the Dream Act and Congress has until the end of December to pass this important legislation. Join activists calling on Congress to pass a clean Dream Act at rallies and district office visits around the country next week while the U.S. House is on recess.
Trump Administration Eliminates Access to Birth Control Benefit
The administration made the decision to dismantle vital health care coverage for nearly 62 million women by eliminating a requirement under the Affordable Care Act that guarantees employee covered birth control coverage. Read the League's full statement on this misguided and discriminatory announcement.
MEMBERSHIP
First Call to National Convention 2018
The League of Women Voters' 53rd National Convention will be held at the Hilton Chicago in Chicago, IL, from Thursday, June 28 through Sunday, July 1, 2018. We invite our League members to save these dates and plan to join hundreds of passionate and engaged leaders for our biennial national gathering. More information and the full "first call" is available here.
Election Observation Training Resources from LWVUS and the Carter Center
LWVUS, in conjunction with the Carter Center, created two online courses to support election observation volunteers and to guide election observation programs. The two courses, Volunteer Observer Training and Core Team Election Observation Training, are geared toward different audiences. The former is meant to be used by election observation volunteers, while the latter is meant to be used by more experienced volunteers, leaders, and staff who are setting up election observation programs in their states or localities. These materials were developed after the Carter Center and LWV Ohio executed a pilot election observation training program in 2016, and were reviewed extensively by LWV Wisconsin. Find instructions on how to enroll in the courses to access materials here.
League of Women Voters. 1730 M Street NW, Suite 1000, Washington, DC 20036-4508.
All League News