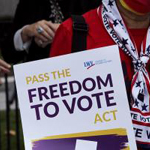 The League of Women Voters of Berkeley, Albany, Emeryville (LWVBAE) has been working hard to push action on the Freedom to Vote Act and get it through Congress this fall. On November 8th, at one of our League coffee hours hosted by Adena Ishii, Steve Blumenkrantz and Alec White, League members and supporters met to learn about the bill and then proceeded to contact our California Senators to urge them to take action on getting it passed. We would like to thank all volunteers for their hard work on this important task. 
Our goal is to ensure that the Freedom to Vote Act is passed as soon as possible, before the end of the year. If the Freedom to Vote Act gets pushed to 2022, it will be even harder to pass and the provisions to implement fair redistricting and to protect voting rights won't be put in place for the midterm elections.
The Freedom to Vote Act protects and expands ballot access for millions of Americans, especially those who are often targeted by anti-voter laws — voters of color, voters with disabilities, formerly incarcerated voters, women voters, young voters, and elderly voters.
Below is a summary of the bill:
1. The bill combines important protections from the House-passed For the People Act and Senator Raphael Warnock's Preventing Election Subversion Act. It counters the provisions in laws in states such as Georgia and Texas aimed at allowing partisans to overturn lawful elections. It establishes safeguards against local election officials being removed for partisan reasons and makes intimidating election workers a felony.
2. The bill will, in federal elections, override new local voter-restrictive laws in states. So far this year, at least 18 states have adopted laws making it harder to vote. Our country's Founders foresaw this danger. The Constitution's election clause grants Congress the power to supplant state law in federal elections.
3. This bill enables all voters to request mail-in ballots and ensures that enough drop boxes will be available and accessible for all voters. It also requires states to offer at least 15 days of early in-person voting, to register eligible voters automatically with their driver's license,
4. This bill offers election-day registration and makes Election Day a holiday.
5. In addition, the bill sets standards to constrain voter-registration purges taking place in states such as Georgia.
6. It also addresses Georgia's inhumane legislation that prohibits people from providing water or food to voters waiting in long lines.
7. If passed, the Freedom to Vote Act will require paper ballots in every state to ensure that vote counting is hacker-free and subject to a reliable recount. It will allow local election officials to apply for grants to purchase updated and secure voting equipment.
8. The measure will require for the first time that candidates and their election committees report to federal authorities any foreign contacts seeking to contribute to or coordinate campaign efforts.
9. This compromise bill will curb the gerrymandering used to maintain power in disproportion to the popular vote, empowering courts to appoint independent demographers to create fair maps and not politicians when maps are being disputed. And last, but certainly not least, the bill will help moderate the dark-money political contributions that tilt laws in favor of the mega-wealthy.
Large majorities of Americans approve of the voting rights provisions that Senators Joe Manchin's and Amy Klobuchar's Freedom to Vote Act combine. The Freedom to Vote Act is the bill the American people want and need to make the promise of democracy real for us all. The League of Women Voters strongly urges every senator to support this bill.
This is a continuing effort that is going on nationwide. The actions being taken to get this bill passed are ongoing. If you have just a little free time, contact your Senators. Tell them how you feel and let them know you think this measure is a priority.
You can find contact information and phone scripts for the California Senators at tinyurl.com/LWVBAEcoffee!
Thank you so much for your help!
–Alec White
All League News