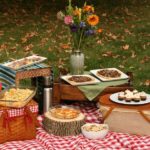 Put our new picnic date on your calendar. Plan to bring your favorite potluck food and  your family and friends and join The League of Women Voters of Berkeley, Albany, Emeryville us for the "Picnic with the League."
Come learn what our teams are working on and how you can get involved. Each team will have a family-friendly activity to participate in, and we will have a surprise drawing for those who visit all of our teams!
Please sign up at this link, so we'll know who is coming.
Apologies to those who signed up for earlier date–do sign again so we know you can make this date.
Bring your favorite picnic food for our potluck and bring blankets, chairs, and whatever else you need to be comfortable. We will provide everything else.
One of our goals this year is to build a more supportive, inclusive community, and we believe that one of the best ways to do that is to eat and have fun together. We hope to see you there!
If you have any questions, please contact Jinky Gardner, Membership Director, at membership@lwvbae.org
All League News