It was a perfect day to celebrate with street festivals in Albany and Berkeley.
In Berkeley it was very warm but under the League tent it was cool and breezy. We were surrounded by the marvelous smells from the food booths, music, and a parade of people fantastic to watch.
We engaged with the passers-by, informing them about the League, what we do and what we are and demonstrating that we are politically engaged, not all women, and not all white. We handed out information on voting, healthcare, criminal justice, and the environment. We signed up people wanting information and possible involvement with the League.
Thanks to the many League members who joined at specific periods during the day contributing to our success like Lynne Engelskirchen and Regina Beatus.
The stars of the day were: Ruby and Bob MacDonald for setting up and taking down the booth. For most engagement with the public: Hank Abrons, Adena Ishii, and Steve Blumenkrantz who  twirled the 'Your Vote Matters' sign like a pro. Pam White for engaging with the public and connecting us with her Sorority in the booth next to us. They were very helpful.
Come join us next time for League outreach. It's rewarding.
In Albany The festival was held on Masonic Ave and Solano. Smaller and newer but just as joyous.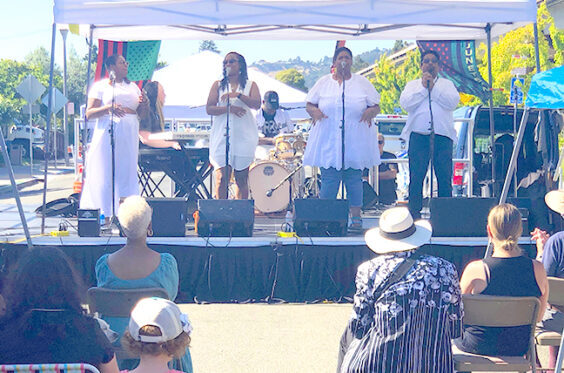 –Linda Carothers
All League News