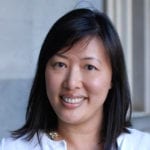 Noted CalMatters economy journalist Judy Lin treated League and community members to her expert rundown of Governor Gavin Newsom's recently released state budget during January's "Face the Future" speaker series sponsored by LWVBAE.
Titled "Budget Decider: Decisions that Impact Millions of Californians,"  Lin's presentation focused on the Governor's reasoning in apportioning about a third of the state's record $222 billion in expected revenue for K-12 and Higher Education, about a third for Health and Human Services, approximately 8 % for Corrections and Rehabilitation, 8 % for Transportation and 16 % for "Other". Click on this link for a pie chart https://infogram.com/california-budget-spending-1h7v4pl8nrld2k0. Within these large allocations, she also discussed the innovative expenditures the Governor has proposed.
Among the plethora of Newsom's innovative proposals, Lin highlighted higher education programs for workforce training, a generous grants program for K-12 to encourage teachers to serve in low-income schools for 4 years, creation of a state prescription drug brand to keep down drug costs, healthcare coverage of undocumented people but limited to undocumented seniors, $1.4 billion for homeless services as well as use of vacant public land and trailers for emergency housing.
Lin also reviewed the Governor's by-now-well-known advocacy for early childhood education with subsidies for low-income pre-schoolers to ensure their success when they enter the K-12 system; a Climate Catalyst Fund of loans for climate entrepreneurs in addition to continued support for existing climate protection measures and expansion of wildfire protection measures, including development of new technology, as well as more resources for fire prediction and monitoring; and making parenting easier by increasing accessibility of family leave and other aids.
Finally, among all the proposed expenditures, the Governor's budget lists a "rainy day" fund larger than previously allocated for any future downturn in the economy. And not to be ignored — the remaining "massive" unfunded pension liabilities are continuing to be reduced, albeit very slowly.
Hence, Lin's presentation managed to inspire an up-beat note, especially for those not familiar with her employer, CalMatters.  A nonprofit, nonpartisan on-line "newsroom," CalMatters has sextupled its staff since it began 4 years ago, garnered prizes for its reporting from its peers in the process and introduced its own innovations like the "Explainer" articles which make "difficult" topics understandable to readers!
–President Ruby MacDonald
All League News