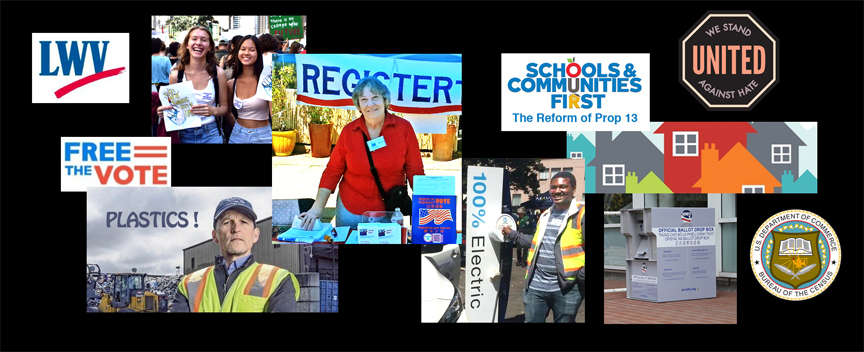 JOIN HERE   RENEW HERE   DONATE HERE   WRITE CHECKS HERE
A letter from our President, Ruby MacDonald, November 2019:
On this 100th anniversary of the League of Women Voters, it is my privilege to earnestly ask you to begin or to renew your LWV Berkeley, Albany, Emeryville membership so that we can continue to energize our League's commitment to "Making Democracy Work"!
As you may know from our collective LWVUS, LWVC and LWVBAE websites, this year's League activities at the National, State and Berkeley, Albany and Emeryville levels have highlighted:
1. "Diversity, Equity and Inclusion" promoted by LWVUS, like many groups across the country, so that all may share in the abundance of our wealthiest nation on earth. In pursuit of this goal, LWVUS encourages everyone to be counted in the 2020 Census!
2. LWVC advocacy on Climate Concerns, Criminal Justice Reform and Community Needs legislation on behalf of all Californians — but especially the disadvantaged – while continuing to campaign for "Schools and Communities First!" by separating commercial from residential/rental property tax assessment.
3. LWVBAE Registration/Get-Out-The-Vote tabling at seven events with handouts to attract groups underrepresented among voters AND a new Speaker Series — "Face the Future" – featuring leaders on issues vital to our Berkeley, Albany and Emeryville community on the third Sunday of each month at Berkeley Central Library 2 – 4 pm!
Our dues remain $75 per year for a single member, $115 for a household of two and $20 for students or those in need. Please respond by Dec. 1, 2019, to ease our bookkeeping load with 1) a check in the mail to LWVBAE, Suite F, 2530 San Pablo Ave., Berkeley, CA 94702. 2) a credit card payment on our website at https://lwvbae.org/join/
Large challenges face all of us in the coming year but together, we can keep the League of Women Voters in the forefront of civic empowerment, where it has been for 100 years!
Thank you for your support of our League,



OO
OO
Ruby MacDonald, LWVBAE President
president@lwvbae.org 847 309-2707
JOIN HERE   RENEW HERE   DONATE HERE   WRITE CHECKS HERE
All League News